The lockdown has increased our reliance on what is within reach and has consequently led us to the re-discovery of local brands. With global trade still mostly on hold, support for local enterprise is giving local brands a major opportunity to innovate.
FROM FABRIC TO BRAND
A GLOBAL POSITION
UNSHAKEN CREATIVITY
CULTURE AS MUSE
From Fabric to Brand
In 2004, Iwan Tirta built an extension brand on the success of a batik fabric business that he grew in the 1970s. By then his name was synonymous with fine Indonesian batik, which he helped to revive and subsequently champion through the '70s and '80s almost until his passing in 2010.
Trained as a lawyer, Tirta spent decades retrieving traditional patterns and methods of producing batik, elevating the fabric and its designs to a genuine cultural heritage, and eventually propagating its universal appeal through a commercial platform.
"Iwan Tirta Private Collection was set up to manage his line of products from fashion to home decorations," says Ms Widiyana Sudirman, CEO of PT Mahakarya Warisan Nusantara, the group that owns the brand. "We aim to be known as the leading brand for Indonesian heritage craftsmanship that stays relevant for current generations."
Today, the Iwan Tirta Private Collection is a leading purveyor of batik products, from fabric to apparel for men and women, fashion accessories, and home decorations. "Our core products are still batik fabric, menswear and ladieswear, scarves and shawls," explains Sudirman, but "what we manage has now expanded to many different forms." She is referring to the way the brand has pushed the boundaries for batik by applying it on metal and silver jewelry, wooden furniture, home accessories, and even wool rugs. "Since 2018, we have initiated some collaborations with designers, from fashion to interior, to reach a wider market segment."
Brick-and-mortar retail remains the primary revenue source of the business, particularly for the core products, Sudirman says. "Our main customers are Indonesians who appreciate batik as art, including many prominent businessmen and professionals, and even socialites."
Although Iwan Tirta Private Collection does not have an international branch or overseas representative, it runs an online shop where customers can browse and buy their products. They have also partnered with top Indonesian e-commerce platforms, Tokopedia and JD.id. During the lockdown, the business continued on their online channels, with transactions taking place on WhatsApp, the company website, and e-marketplaces.
Online exposure is an important entry for people to get acquainted with the Iwan Tirta brand and examine the range and quality of its products, says Sudirman, but more importantly, it is a way to communicate the cultural value of batik. "Educating the public about batik is a never-ending activity for us."
Sudirman is convinced that a brand with deep cultural roots has a distinct commercial advantage, but adds that it still requires a long-term commitment. Educating the public over a long period is necessary for them to understand the painstaking process necessary to produce batik, and why, in the end, it is a luxury item, she elaborates.
Iwan Tirta Private Collection is keen to grow into an international brand. "We are constantly innovating our products to appeal to international tastes, Sudirman says. The combination of online presence, international fashion shows, and constant product development is helping to fulfil this ambition.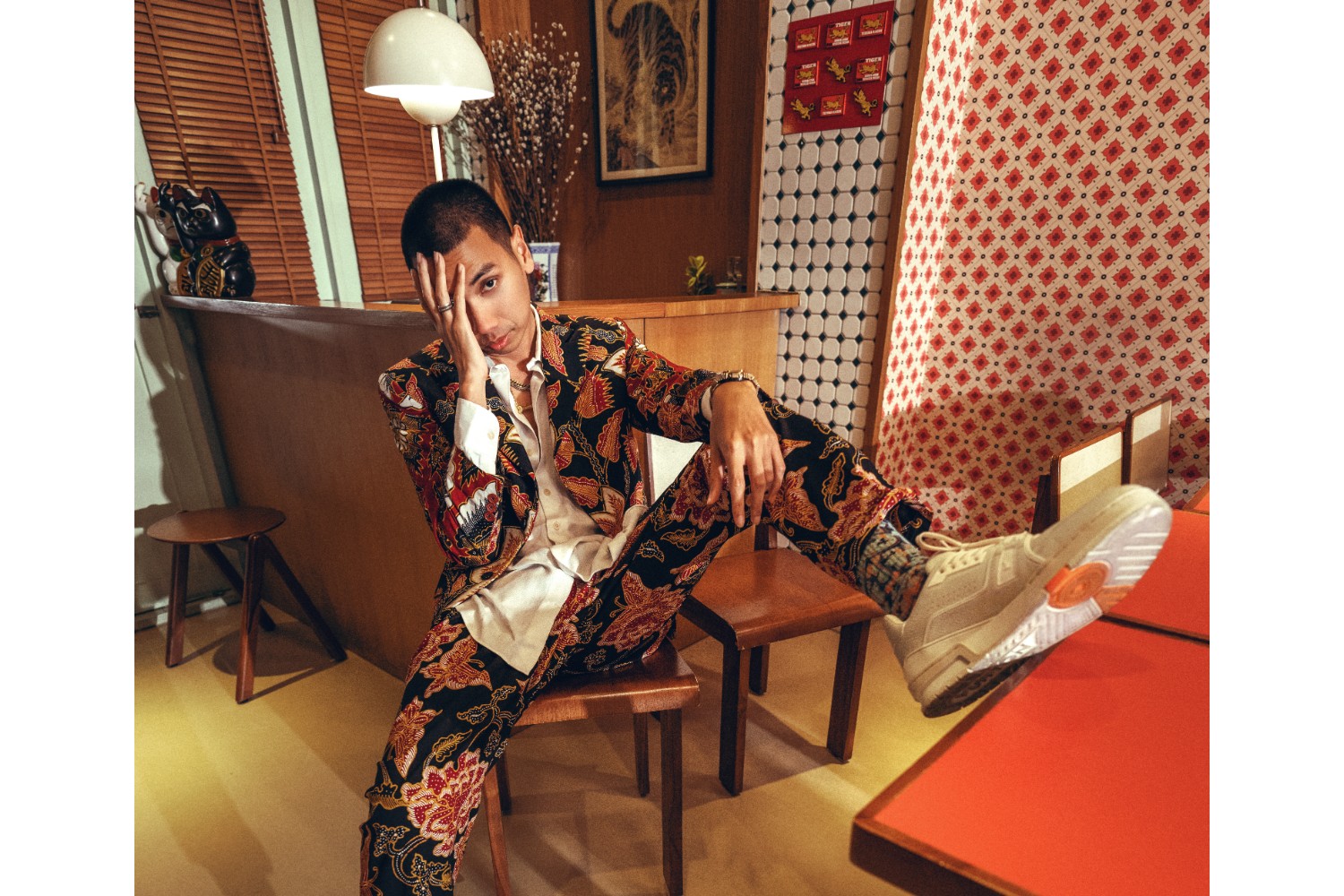 "We aim to be known as the leading brand for Indonesian heritage craftsmanship that stays relevant for current generations." – Widiyana Sudirman, PT Mahakarya Warisan Nusantara CEO
FROM FABRIC TO BRAND
A GLOBAL POSITION
UNSHAKEN CREATIVITY
CULTURE AS MUSE
A Global Position
Designer Khoon Hooi was intently examining the fashion market in his native Kuala Lumpur when he identified an underserved segment – affordable luxury in the 'occasion wear' category. This was the opportunity he was looking for. "In 1999, I launched my own label, starting with a counter set up at the Isetan Kuala Lumpur department store, which I sustain with quarterly launches for the mass market," Hooi elaborates.
Later on, he ventured upstream with the release of twice-yearly occasion wear collections, something that he maintains until today, to feed the label's main product line. Along the way, Hooi launched a bespoke service for his more exclusive clientele, as well as seasonal capsule collections that answer a huge demand for festive wear during the Lunar New Year and Hari Raya celebrations, including an Eid al-Fitr 'easy-to-wear' capsule exclusively for the Middle East market. The bespoke service has found a connection between fashionable and wealthy women in Malaysia to become a pillar in the business.
Today, retail and bespoke service contribute 40 per cent each to the total revenue, with lifestyle – a growth category – and ready-to-wear capsules contributing ten per cent each. Eighty per cent of the ready-to-wear production is shipped to the Middle East, with the remaining 20 per cent divided between Europe and the rest of Asia. Part of the production is also sent to stockists in the Middle East, primarily to Dubai, Bahrain, Kuwait, Riyadh, Khobar, and Doha, as well as to Paris and Tokyo.
Khoon Hooi's online store has been in operation since Spring 2019 and has been recording a slow yet steady growth. Transactions picked up during the lockdown, owing mainly to purchases of lifestyle items which include face masks. Hooi points out that exposure through Instagram and global stockists have benefited the brand in terms of international exposure. Currently, Khoon Hooi has an expectedly steady following in Malaysia, but also in Singapore and the Middle East.
"We shut down the operations totally during the lockdown because of our 'zero stockholding' practice. Instead, we deployed the production team to contribute to the production of medical gowns for the much-needed PPE," he says.
"Brands that use local design influences will face both opportunities and challenges as they search for growth overseas; I would even say that the challenges will be greater," Hooi surmises. "Even if they do manage to get there, penetration will be minimal. It will be shortlived and heavily dependent on what is trending at the moment."
Hooi thinks that the deployment of a sizeable PR budget may initially help in gaining exposure, but even this will be short-lived. "Perhaps a better chance of making it overseas is by using local materials in widely acceptable silhouettes."
Khoon Hooi has already rolled out a strategy for the international market. "We already have, and we will continue to position ourselves globally," he affirms. They have been attending trade fairs to promote their wholesale trade – at the New York Fashion Week from 2008 to 2010, and the Paris Fashion Week from 2010 to the present. "We have also invested in a Los Angeles- based PR company for 2020 awards season," Hooi says proudly. The effort has been successful, with red carpet sightings of a Khoon Hooi demi-couture feather gown on actress Karen Pittman at the 77th Golden Globe Awards.
FROM FABRIC TO BRAND
A GLOBAL POSITION
UNSHAKEN CREATIVITY
CULTURE AS MUSE
Unshaken Creativity
"We are a design company that does not only do fashion," Melinda Looi says by way of explaining how her company works. "We also supply uniforms, and offer interior design services from new builds to renovations." However, the company's main lines are Melinda Looi Couture and Melinda Looi Ready-to-Wear; the former served as the springboard to the entire business when Looi launched it 20 years ago with a counter at Isetan KL. She sold her collections there and offered bespoke services for special orders, as well.
"In 2003, I opened a standalone boutique in Bangsar," she says, and established a second line, Mell. Two years later, Dirk Luebbert joined the company and realigned all product lines and businesses into a bigger business model. Later expansions would include an organic cotton line, Mell Basics, a uniform design and production outfit, a Muslim line, Emel, targeted at online and e-commerce platforms, and finally, interior design and build arm. "We had to diversify and be different to survive in the creative industry, and this gave us a reason to explore other creative fields."
Looking back, Looi acknowledges the tremendous growth that the brand has amassed since it was established in 2000. "We do have our ups and downs. I can't say we're not profitable, but I also can't say we are. Fashion is a tough business, especially now with the pandemic killing the industry. We are badly affected," she admits candidly.
With the economic disruptions caused by the COVID-19 pandemic, things have changed for the business. "Our revenues used to come from retail sales at own stores, counters and pop-ups, as well as from our uniform business, interior design, and e-commerce. Fashion retail used to be the strongest contributor to our profitability, even years before the pandemic when I started to decrease its percentage. Currently, revenue contribution is more balanced among our revenue drivers."
Before 2018, the business was increasingly directed towards international trade and export. They participated in tradeshows, from Paris to Milan, London and Shanghai. "However, it never really made money, and we saw the demise of our wholesale business via trade shows," Looi reveals. They then shifted their focus on the domestic market and e-commerce. "In hindsight, that was the right idea."
Looi reports that the situation is volatile at the moment, with the marketplace dynamics shifting every month. "It is difficult to say what the post-pandemic scenario will be, but on average, 20 to 30 per cent of our sales came from online channels these last couple of months."
The business stood still for Looi during the lockdown. "We couldn't sell anything. The Ramadhan season was usually the busiest time of the year for us, especially for Melinda Looi Couture, but business was on pause. We have tried sending out EDMs, social media, and WhatsApp messages, but it was difficult because even our customers were unsure if there was going to be a Raya celebration."
For several years, Looi has focused on international buyers and customers, attending Tranoï Paris, Pure London, White Milano, as well as couture showcases, mostly the Islamic fashion festivals, around the world. They have reconsidered these initiatives over the past five or six years as trade fairs and international businesses began slowing down. "We are now focusing mainly on our local clientele and regional customers," Looi concludes.
"I believe designs based on local culture can succeed in the international market if their style has a global appeal in cut, color, and elements. Depending on which foreign market they're trying to penetrate, and we need to understand their culture, too."
Looi remembers their attempt to establish an international brand. "But we didn't go in the right time," she opines. "I was selling very well in America during early 2000 – with repeat orders from boutiques and agents for at least five years before the economic crisis hit in 2008. Malaysia was badly affected, too; we had a slowdown for a few years before we picked ourselves up and began joining trade fairs and shows abroad. But the market has changed so much by then so instead of the big fish, we caught the smaller ones – and the squids. Currently, with this pandemic, I think it will take a longer time for the fashion industry to recover."
Be that as it may, Looi continues to power on – her designs an enduring symbol of her creative spirit.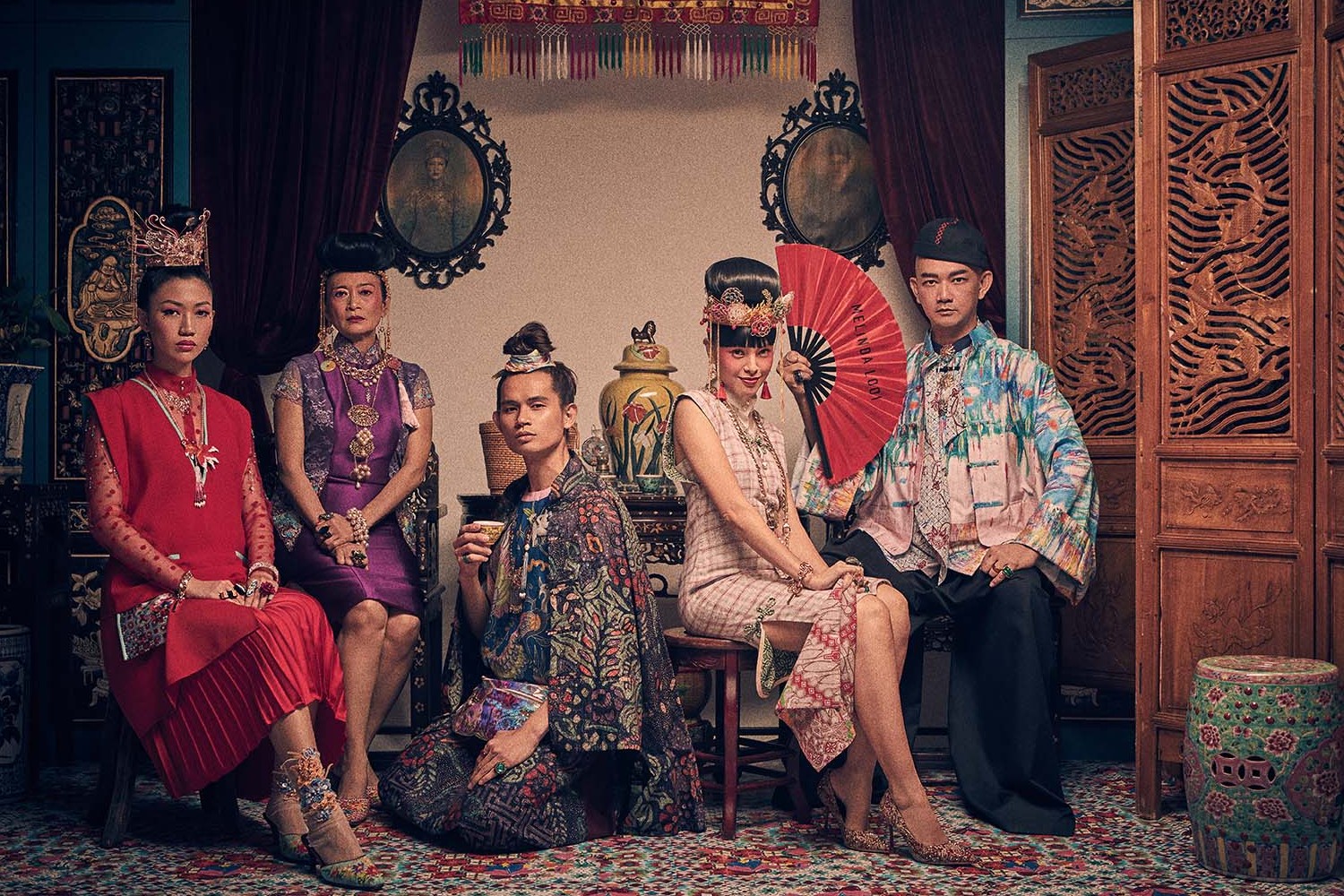 ""I believe designs based on local culture can succeed in the international market if their style has a global appeal in cut, color, and elements." – Melinda Looi of Melinda Looi Couture
FROM FABRIC TO BRAND
A GLOBAL POSITION
UNSHAKEN CREATIVITY
CULTURE AS MUSE
Culture As Muse
"Artistic traditions around the Philippines inspire Filip + Inna," says Lenora Luisa Cabili, founder of the apparel brand Filip + Inna. "Tradition is the warp, and contemporary is the weft, and weaving them together creates timeless and unique clothing that reflects the diverse cultures of my country." The ten-year-old brand imbues every garment it produces with traditional weaving, embroidery, and beadwork techniques from different indigenous groups in the Philippines.
"Our mission is to revive and preserve traditions that are in danger of becoming lost," Cabili declares. "We hope that the pieces we create will spur a deeper appreciation for Philippine culture." Eleven years ago, she started working with five artisans from the T'boli tribe from the southernmost part of the Philippines, and have continued this mission with 22 other indigenous groups across the country. The original five artisans have now ballooned to 400, giving Filip + Inna a broad range of indigenous designs and skills to create contemporary apparel with a unique point of view. In turn, Filip + Inna provides them with opportunities to earn a living.
Cabili is zealous about promoting her native culture in the international arena. "Culture plays an integral part in any design field," she theorizes. "When a design is rooted in culture, authenticity is nurtured. What makes a brand based on local design and culture appeal to a wider audience is its authenticity." For Cabili, authenticity enables the local to become universal.
Little has changed in the past ten years for the brand – except its phenomenal growth. It remains in Cabili's hands – "Yes, I still own it fully," she says – and stays true to its mission of working with a diverse group of Philippine artisans. "To sustain the business, and continue working with artisans, I make sure that we maintain a good margin."
The product lines have not exploded either; they still encompass fashion and home accessories, with women's ready-to-wear apparel being the principal line. The business is sustained by sales from the online stores and trunk shows, as well as made-to-order production.
"When we started, we hit the international market through trunk shows in the US and the Philippines. Specialty stores carry our products in the US; meanwhile, in the Philippines, we mostly do pop-up stores," Cabili says. A couple of months ago, she launched their e-commerce business.
Cabili claims that her brand appeals to both local or international tastes. "We believe our product is our best marketing tool. People see the beauty in the work of hands. Philippine embroidery has not been fully known here and abroad; when people see it, they see something different."
When the lockdown was first announced in the Philippines, the artisans who work for the brand were not affected. "They work from home, and we usually send them to work in advance. Our workshop and our design studio were affected, however. We decided not to do any business for the first three months of the lockdown. Instead, we spent the time analyzing how we wanted to adapt to the current situation."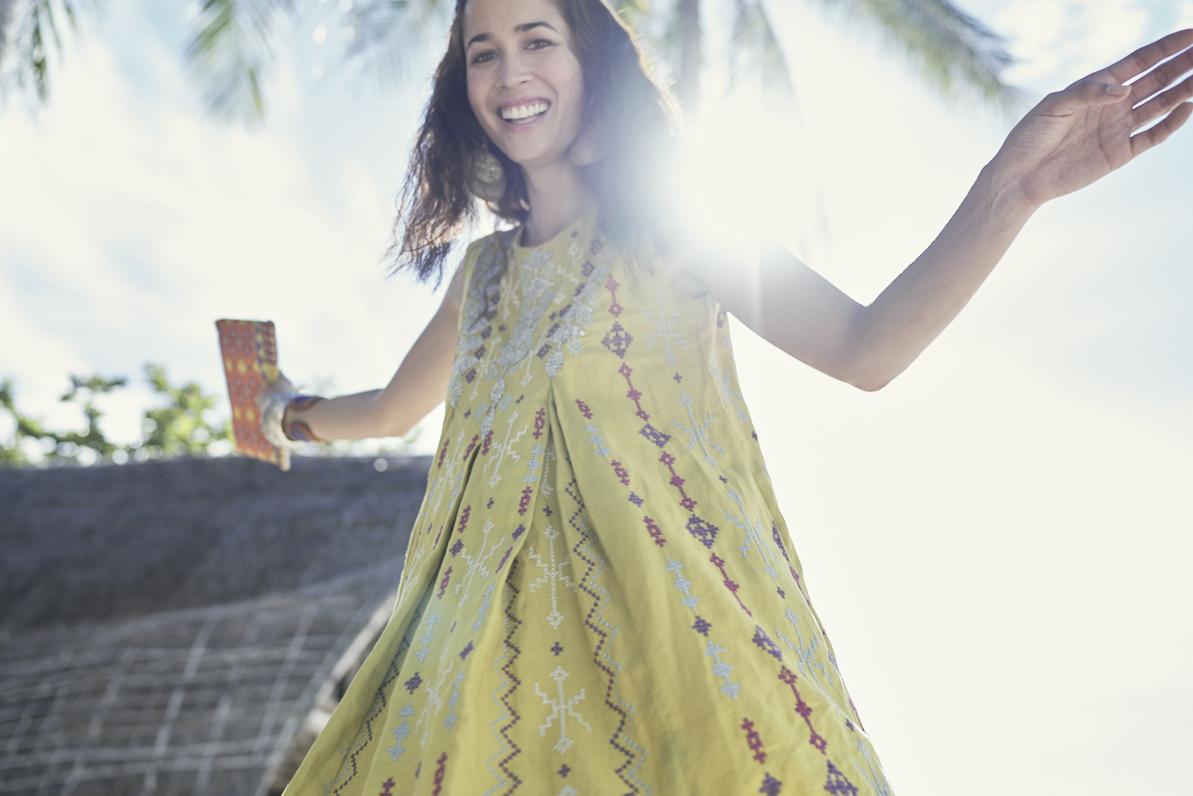 "Artistic traditions around the Philippines inspire Filip + Inna." – Lenora Luisa Cabili, Filip + Inna founder