Tourism in the Maldives turns 50 this year and its turquoise waters and teeming marine life remain as alluring as ever. A slew of new and refurbished openings further cements its status as the perfect romantic escapade, and increasingly, the destination of choice for multi-generational gatherings. Some resorts go a few steps above the rest in conservation, community, and connection, such as the recently renovated Conrad Maldives Rangali Island, a 30-minute seaplane flight from Velana International Airport, and newcomers Ritz-Carlton and Patina on the Fari Islands, located 45 minutes away by speedboat. At these places, local and regional produce is prioritised and eco-consciousness is articulated in all forms – from educational talks and hands-on workshops to eschewing single-plastic use. Take a deep breath and dive into these gems glittering in the Indian Ocean.
CONRAD MALDIVES RANGALI ISLAND
THE RITZ-CARLTON MALDIVES, FARI ISLANDS
PATINA MALDIVES, FARI ISLANDS
Conrad Maldives Rangali Island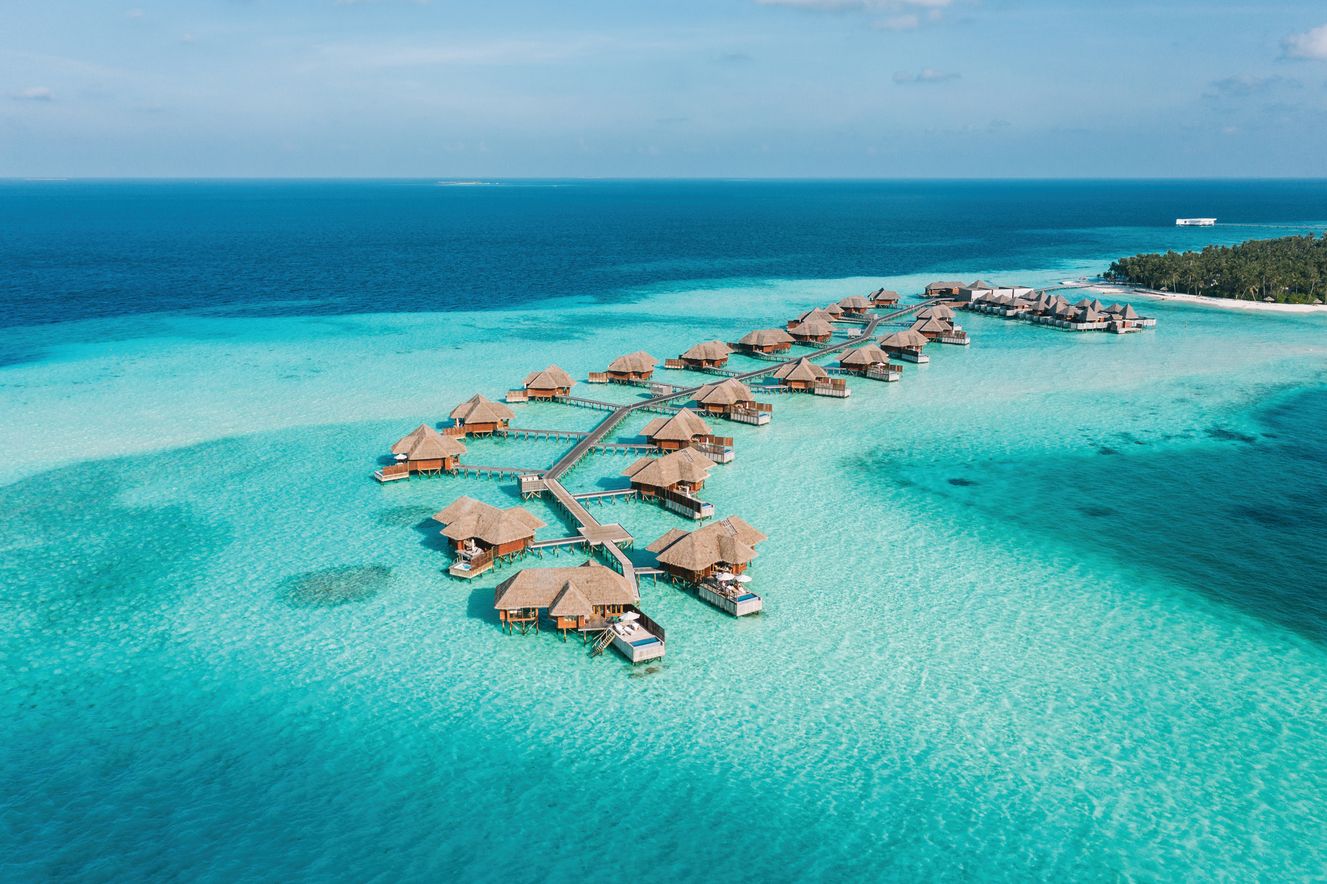 In a sea of modern island resorts, the 25-year-old, 151-key Conrad Maldives Rangali Island still sets hearts aflutter – all the more after a three-year, multi-million dollar renovation where aesthetic enhancements and additions to restaurants, teens club, and the honeymoon water villas bolster the passion for ocean conservation.
Made out of two islands, the quieter adults-only Rangali Island and livelier family-friendly Rangali-Finolhu Island, Conrad's location in the South Ari Atoll makes it the ideal base from which to spot whale sharks all year round. Such access to marine life is not taken lightly: Every snorkelling excursion and coral regeneration at the in-house reef begins with an educational talk to familiarize guests with responsible tourism. Crossing paths with crabs, monitor lizards, and a pair of herons nicknamed George and Georgette are par for the course; even when you're enjoying a soothing massage at the Over Water Spa, you can watch reef fish and black-tipped sharks through the glass-bottomed floors.
Grand Water Villa with Pool Deck
Click to next slide
It may have been the pioneer of many ostentatious submerged firsts – the most notable being the Ithaa restaurant and the two-level, three-bedroom residence The Muraka – but it is equally serious about minimizing wastage and carbon footprint from imports. The resort's hydroponics garden has not only yielded produce like lettuce, basil, green capsicum, and thyme for its 12 dining concepts, but also enabled staff to share the expertise with neighboring island folk who found it a lifeline during the pandemic. Menus are also carefully planned every fortnight while live stations at buffets allow chefs to cook to demand. Guests connect with the local community at Maldivian-themed nights where the local women whip up curries, seafood, and short eats (finger snacks). Don't be surprised if you leave with lingering memories of tucking into the sweetest grilled lobsters under the stars with soft sand between your toes.
CONRAD MALDIVES RANGALI ISLAND
THE RITZ-CARLTON MALDIVES, FARI ISLANDS
PATINA MALDIVES, FARI ISLANDS
The Ritz-Carlton Maldives, Fari Islands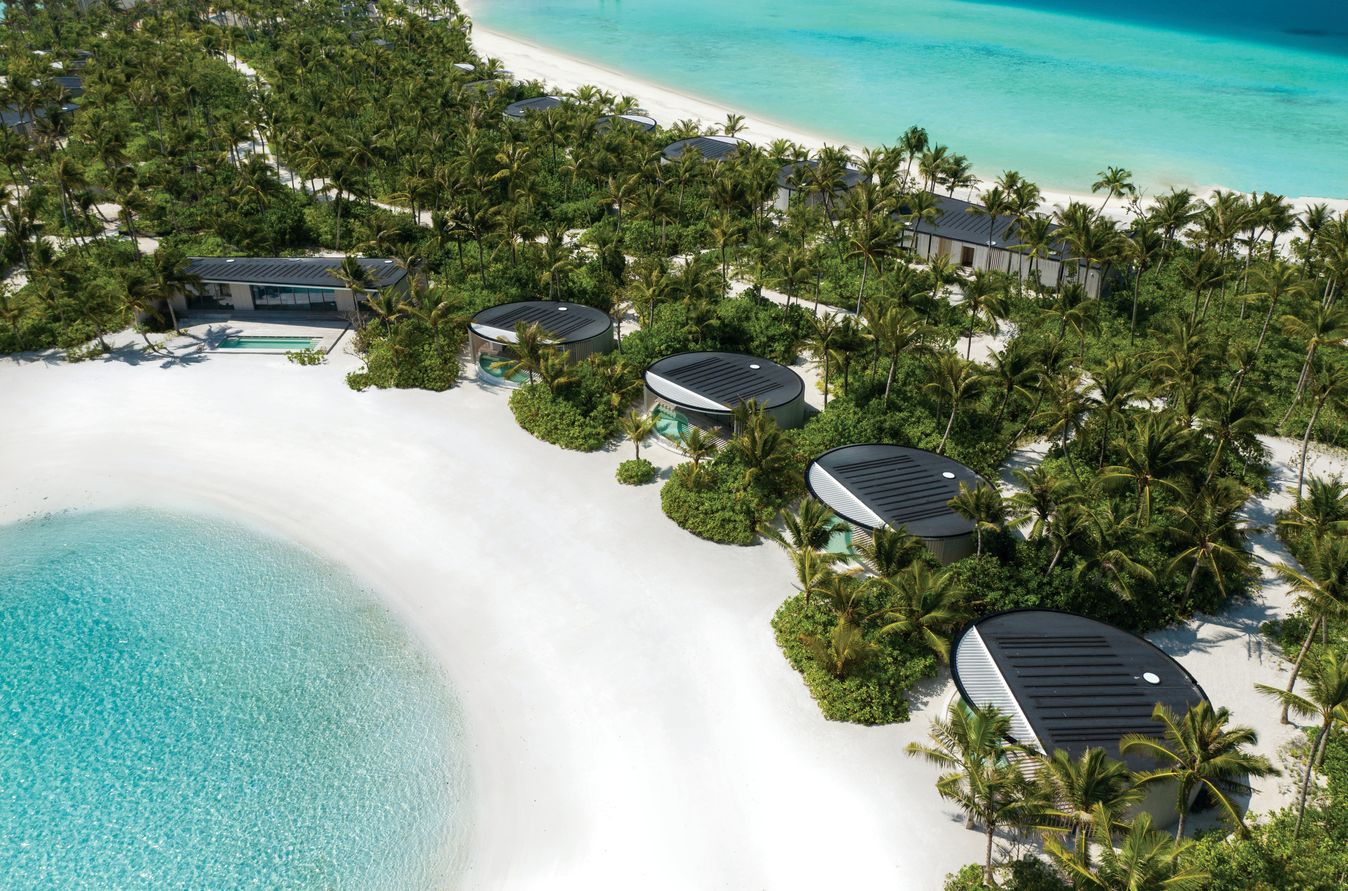 What goes around, comes around – and this avant-garde Kerry Hills masterpiece, opened in June 2021 in The Fari Islands, a man-made collection of four islands in the North Male Atoll, reminds guests of the circle of life through thoughtful design and eco-sensibilities. Endless ocean vistas and glorious sunshine flood the 100 circular beachfront and overwater villas through floor-to-ceiling glass windows, and oculus skylights lit the bathrooms in the daytime.
Prefabricated materials were used in the resort's construction to minimize impact on the surrounding fragile coral reef and the skyline is dotted by trees from land clearance and native plants from local nurseries. The Jean-Michel Cousteau's Ambassadors of the Environment program, developed by the renowned ocean explorer and his educational non-profit organisation Ocean Futures Society, gets full play here as a first in the Asia-Pacific region. Children and adults can participate in a wide array of activities that explore environmental protection, such as coral regeneration workshops, a drone-powered exploration of the reef (for non-swimmers to get in on the action too), and a garden-to-table cooking experience using solar and human-powered energy. A night snorkel might yield hunting octopuses, while rescuing turtles entangled in ghost nets are all in a day's work for the program's marine ambassadors.

Click to next slide
Prioritising quality regional produce like oranges and bananas from Sri Lanka and India minimizes the import carbon footprint, while fruit scraps and peels are transformed into cocktail garnishes or sauces. At Eau Bar, cocktails named in the local Dhivehi language give a glimpse of typical Maldivian snacks and ingredients. Dhonkeyo, for example, refers to a traditional afternoon snack of banana fritters, and is made with brown butter-infused bourbon and banana flavored syrup. Sipping it by the bar's infinity pool, basked in the glow of a flaming sunset, is one of the best ways to contemplate the value of responsible holidays in preserving pristine paradises like this for posterity.
CONRAD MALDIVES RANGALI ISLAND
THE RITZ-CARLTON MALDIVES, FARI ISLANDS
PATINA MALDIVES, FARI ISLANDS
Patina Maldives, Fari Islands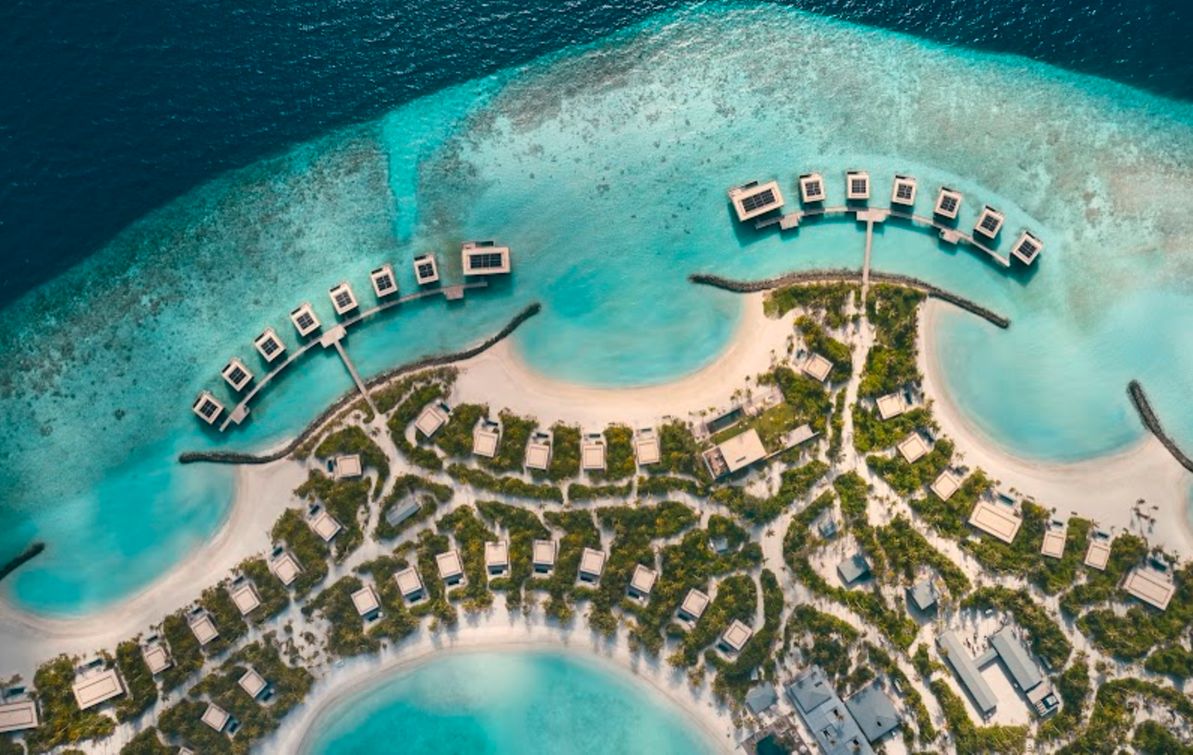 Patina Hotels & Resorts is Capella Hotel Group's latest hospitality brand catering to adventurous travellers seeking a deeper connection with themselves and the communities they encounter, and this first property opened in May 2021 is a fitting introduction.
While the blues often take centerstage in the Maldives, tropical modernism reigns at Patina. Brazilian architect Marcio Kogan and his practice Studio MK27 recreated a lush arcadia among the 90 low-rise, solar panel-topped villas ranging from one- to three-bedroom options; the beachfront versions ensconced by tall vegetation for a jungle feel.

Click to next slide
The Fari Marina Village is the vibrant heart of the Fari Islands, where guests from the island resorts of Patina, Ritz-Carlton, and upcoming 2025 opening Capella, immerse themselves in art, music, fashion, and a plethora of culinary offerings, with local and international collaborations in the pipeline. Patina's 12 dining concepts span the globe, from Japanese-Nordic to Greek and Asian, but the local touch is never far away. Main poolside Veli Bar serves a different Maldivian, Sri Lankan, or South Indian dish daily – fresh reef fish, lobsters, and octopus make for delicious curries not savored anywhere else in the world. Signature restaurant Roots is a work-in-progress towards vegan dishes inspired by a destination's surrounding cultures. The same mindfulness applies to the environment: A biodigester recycles 60 per cent of food waste into compost to fertilise the island's organic permaculture garden and vegetation, while a new turtle genetics expedition is in the works in addition to the existing Olive Ridley Project collaboration, which provides rehabilitation to injured turtles from the Indian Ocean.