On 29 November, Singapore and Malaysia will launch a much awaited VTL (Vaccinated Travel Lane) between Changi Airport and Kuala Lumpur International Airport. If you're looking forward to a long overdue weekend getaway to the Malaysian capital, here are four luxury hotels to consider.
THE RUMA HOTEL & RESIDENCES
PAVILION HOTEL KUALA LUMPUR
FOUR SEASONS HOTEL KUALA LUMPUR
THE MAJESTIC HOTEL KUALA LUMPUR
The RuMA Hotel & Residences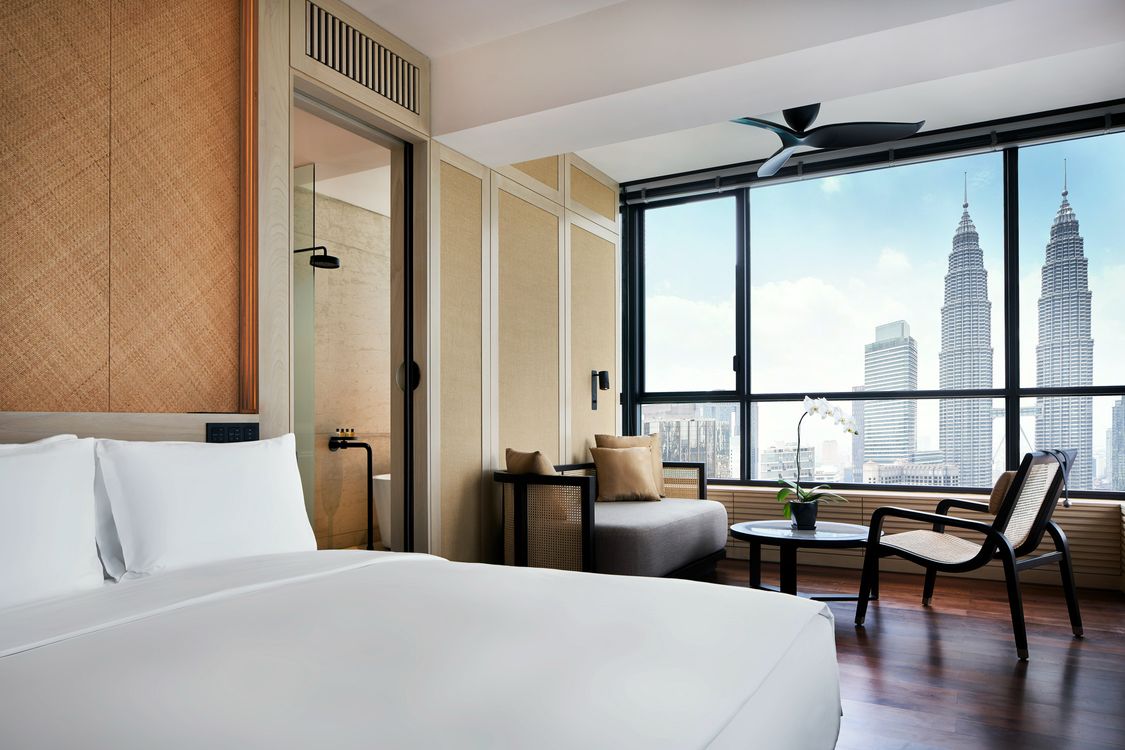 Opened in late 2018, The RuMa is a luxury hotel by Urban Resorts Concepts, the company that brought us the celebrated The PuLi Hotel and Spa in Shanghai. While the property is centrally located in the heart of Kuala Lumpur's Golden Triangle, it is tucked away in a quiet tree-lined street, adding to its homey feel. As soon as guests enter, they'll immediately feel that they've entered a world that revolves around them.
Guests don't have to worry about late afternoon check-in timings here because at The RuMa, they are welcomed exactly as an accomplished host would, starting with the effortless 24-hour check-in and check-out service. All-day butler service is also available for select suites, while guestrooms boast a complimentary, fully stocked mini-bar. While these touchpoints are far from being grand gestures, they make all the difference and are rooted in the culture of "hostmanship" – an experience that is authentic and intuitive.
The hotel rooms are given a minimal and modern tropical feel through the liberal use of wood, rattan headboards, textured fabrics, and neutral colour schemes. The corner Deluxe Suite is most impressive and features a living area that's decorated with sculptural light fixtures, a small dining area, and a lounger perfect for lazing around. Further inside, a spacious, comfortable bed anchors the space, while large windows beautifully frame the bustling city and the majestic Petronas towers next door.
THE RUMA HOTEL & RESIDENCES
PAVILION HOTEL KUALA LUMPUR
FOUR SEASONS HOTEL KUALA LUMPUR
THE MAJESTIC HOTEL KUALA LUMPUR
Pavilion Hotel Kuala Lumpur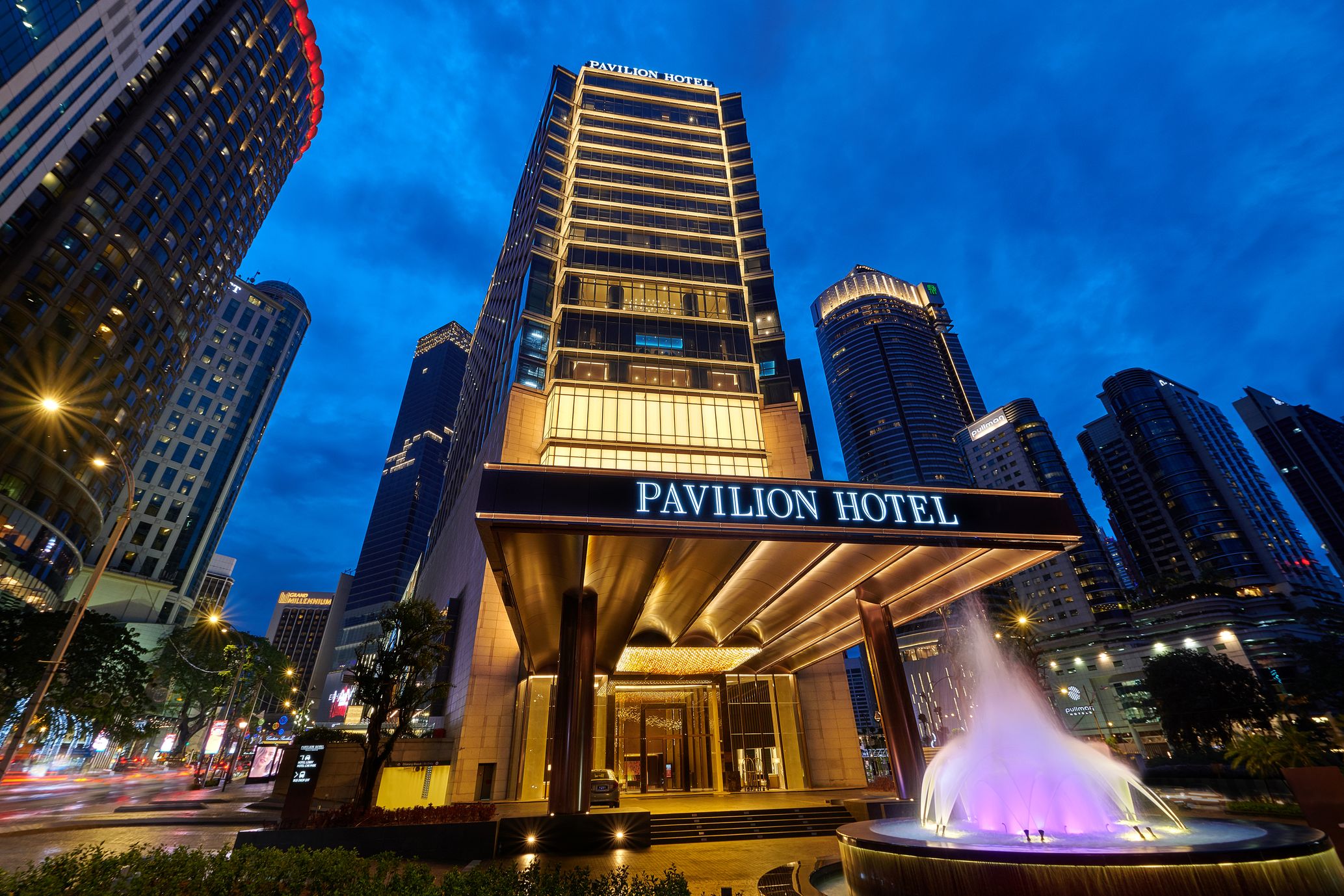 In December 2018, Pavilion Hotel Kuala Lumpur, which is managed by Banyan Tree, officially opened its doors at Pavilion Kuala Lumpur, adjacent to the shopping mall's luxurious Couture Precinct extension. It proudly stands 13 floors above the popular mall and boasts easy accessibility to shopping hotspots, attractions, and renowned landmarks.
Since the property is managed by Banyan Tree, which is known for its resorts and spas, expect nuances of tranquility and relaxation during your stay, even when you're located right smack in the city center. The outdoor courtyard, which is on the same floor as the hotel lobby, is a great example of this – it is cleverly hidden within the hotel building, with further enclosure in the form of a towering water feature. Of course, there is also an award-winning Banyan Tree Spa here for those who prefer Asian-inspired treatments within an enclosed, peaceful location.
There are 325 rooms and suites in total at the property, and 79 of them are located on four dedicated club floors, allowing for access to the exclusive Club Lounge that offers a breakfast spread, light bites, flavorful local dishes, and surprisingly well-made gin-based cocktails. We enjoyed our restful stay at the Club City Oasis room (ranging from 32 to 39 sqm) mainly because of the simple yet elegant décor, magnificent city views, spacious bathroom, and comfortable king-sized bed.

For more information, click here
(Related: The world's most luxurious fleet sails on in 2022)
THE RUMA HOTEL & RESIDENCES
PAVILION HOTEL KUALA LUMPUR
FOUR SEASONS HOTEL KUALA LUMPUR
THE MAJESTIC HOTEL KUALA LUMPUR
Four Seasons Hotel Kuala Lumpur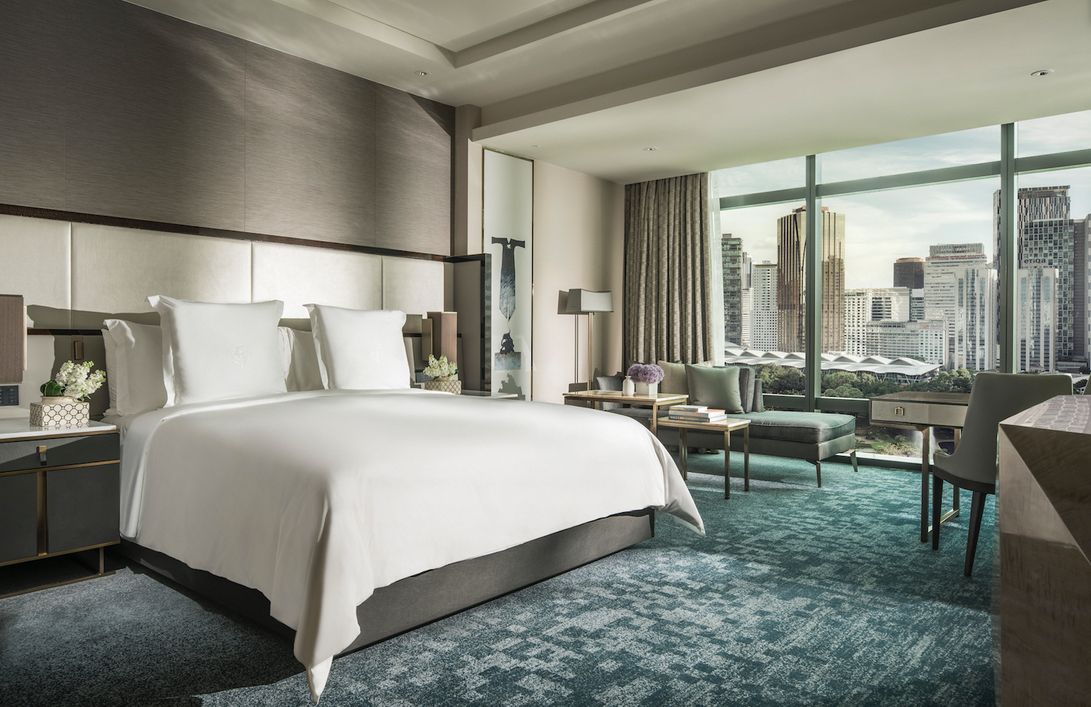 The Petronas Towers has become an iconic symbol of Kuala Lumpur, which sees tourists and locals alike craning their necks, trying to view it in all its glory. Next to it, however, is another skyscraper that's hard to ignore, which houses the new Four Seasons Hotel Kuala Lumpur in the Golden Triangle neighborhood.
The hotel boasts over 200 guest rooms and suites located on high floors, fitted with opulent yet tasteful furnishings. Most of the guest rooms follow a regal color scheme that combines deep blue hues and tasteful greys, all linked by discreet gunmetal finishes. Dining at the hotel is equally luxurious, especially at the in-house Cantonese restaurant, Yun House, and the all-day dining destination, CurATE, known for its fine buffet offerings and show kitchen. Meanwhile, Bar Trigona is a design-forward space that will have you marveling at both the interiors and the specially crafted cocktails.
Those looking to indulge in self-care during their stay, either through a quick workout or spa session, will be able to do so easily. But if self-care to you means retail therapy, look no further and make your way to the nearby retail podium, The Shoppes at Four Seasons Place, which includes a selection of luxury retail and dining outlets across six floors.
THE RUMA HOTEL & RESIDENCES
PAVILION HOTEL KUALA LUMPUR
FOUR SEASONS HOTEL KUALA LUMPUR
THE MAJESTIC HOTEL KUALA LUMPUR
The Majestic Hotel Kuala Lumpur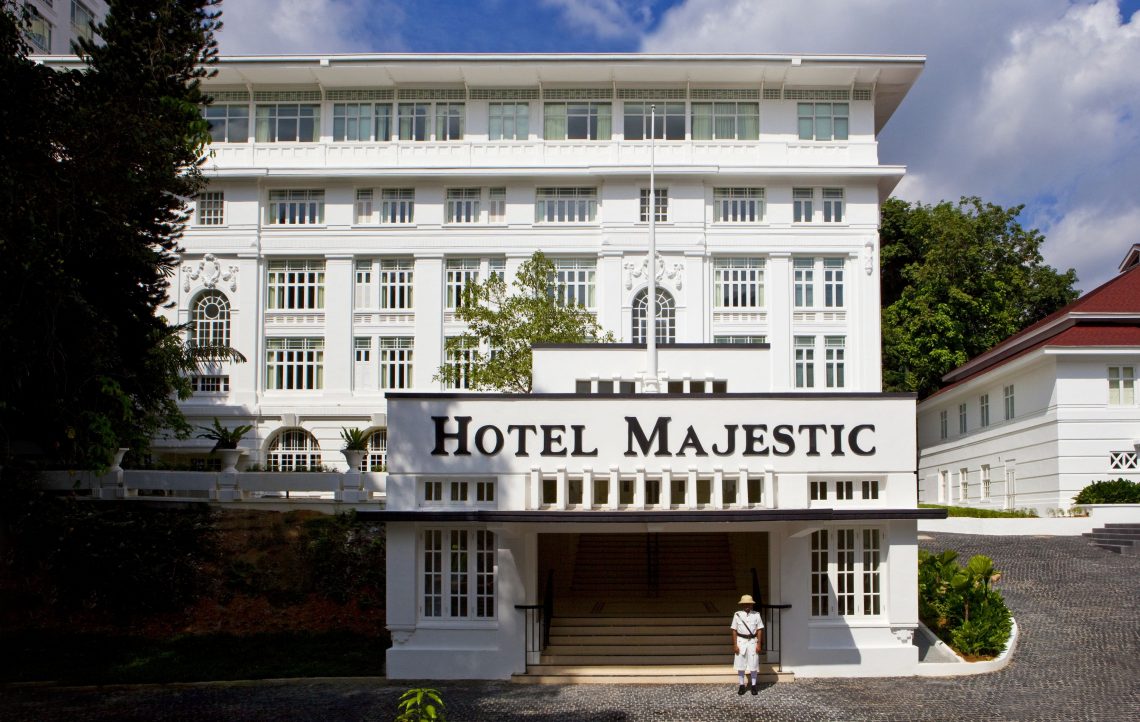 It's hard to miss the grand façade of The Majestic Hotel Kuala Lumpur, with its classic architectural lines and iconic stairs that lead to the property's original wing. Situated opposite the old Moorish style railway station and conveniently located close to Sentral Station, the hotel is the perfect base for those who want to explore Kuala Lumpur's historic and urban offerings.
Staying in at The Majestic Kuala Lumpur also has its rewards, especially for those who want to rest, relax, and enjoy what the hotel has to offer. Once you have settled into one of the spacious and modern rooms or suites, make your way to the historic Majestic Wing, which houses spaces like The Tea Lounge, The Drawing Room, and The Orchid Conservatory, which prove to be popular with both guests and tourists who want to enjoy a civilised afternoon over high tea. Gentlemen will enjoy The Smoke House, which houses a lounge, bar, cigar room, and a dedicated Truefitt & Hill salon that offers grooming and shoe shining services.
Food also plays an important role at The Majestic Hotel Kuala Lumpur, with the anchor restaurant being Contango. Located in the Tower Wing, Contango is a contemporary restaurant that features a fine selection of international cuisine freshly prepared in the open, interactive kitchens. For something more elegant, the Colonial Café recreates an atmosphere of a bygone era and serves classical cuisine made popular during colonial times.