PRELUDIO'S FRESH PERSPECTIVE
ITALIAN ARTISTRY AT ART
BACCHANALIA REBORN
LEVEL33 REACHES NEW HEIGHTS
VIOLET OON TAKES ON ORCHARD ROAD
Preludio's Fresh Perspective
Preludio is a concept-heavy restaurant, but don't let that scare you. Once you get past its monochromatic food under the greater "Author's Cuisine" concept arch, what lies beneath is honest to goodness food that's surprising and most importantly, enjoyable.
Preludio is the brainchild of Colombian chef Fernando Arévalo, where he gets to flex his creative muscle when it comes to presenting – or in this case, re-presenting – food. Beneath the predominantly black and white dishes are unexpected flavors that come to life on the palate. Take for example the identical dishes of Elude and Allude – the former is comprised of white beetroot, burrata, walnut crumble, yogurt foam, and Sturia caviar, while the latter is made up of a savory mix of fermented mushroom, bone marrow, thyme croutons, and mushroom potato mousse.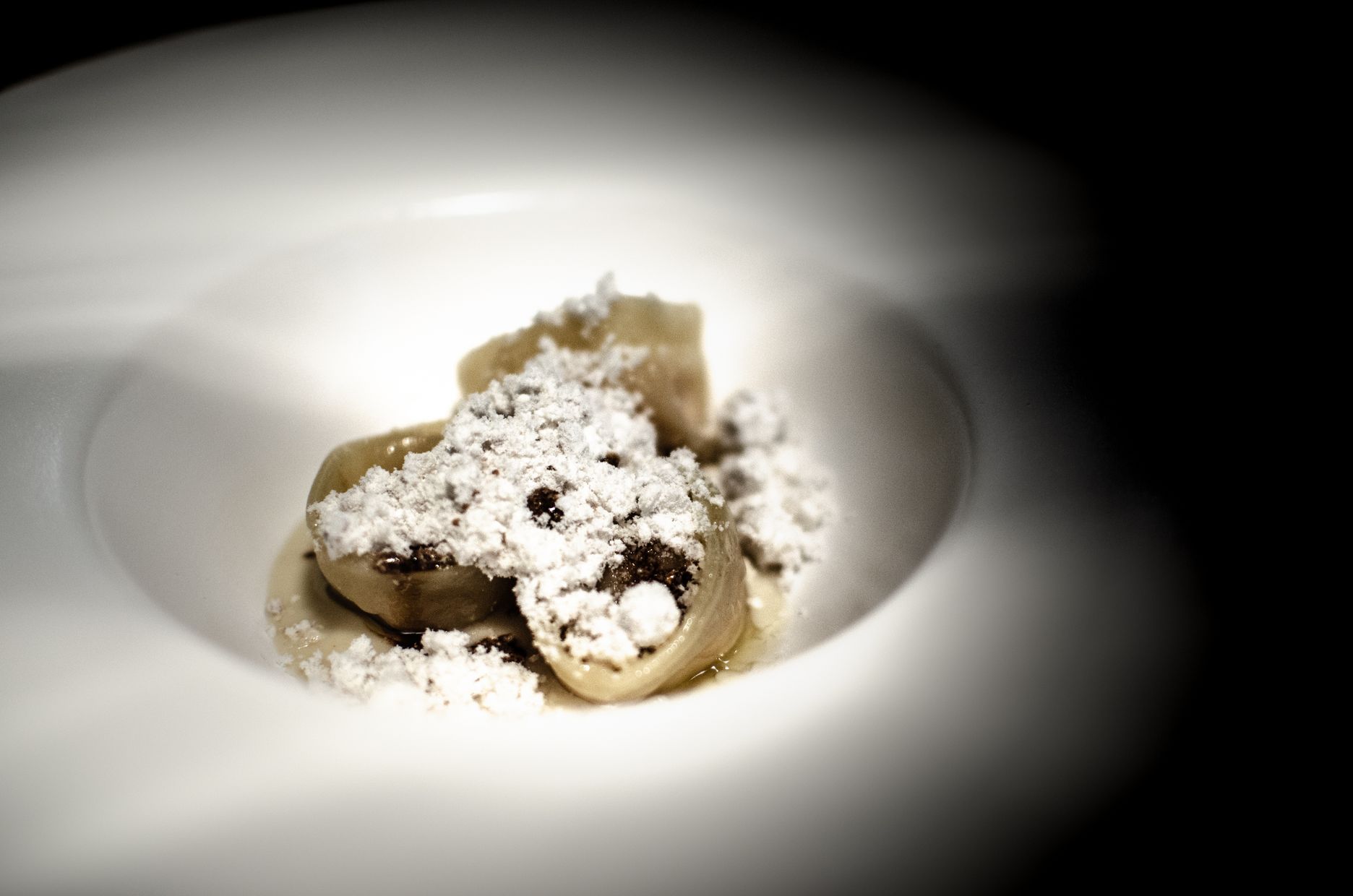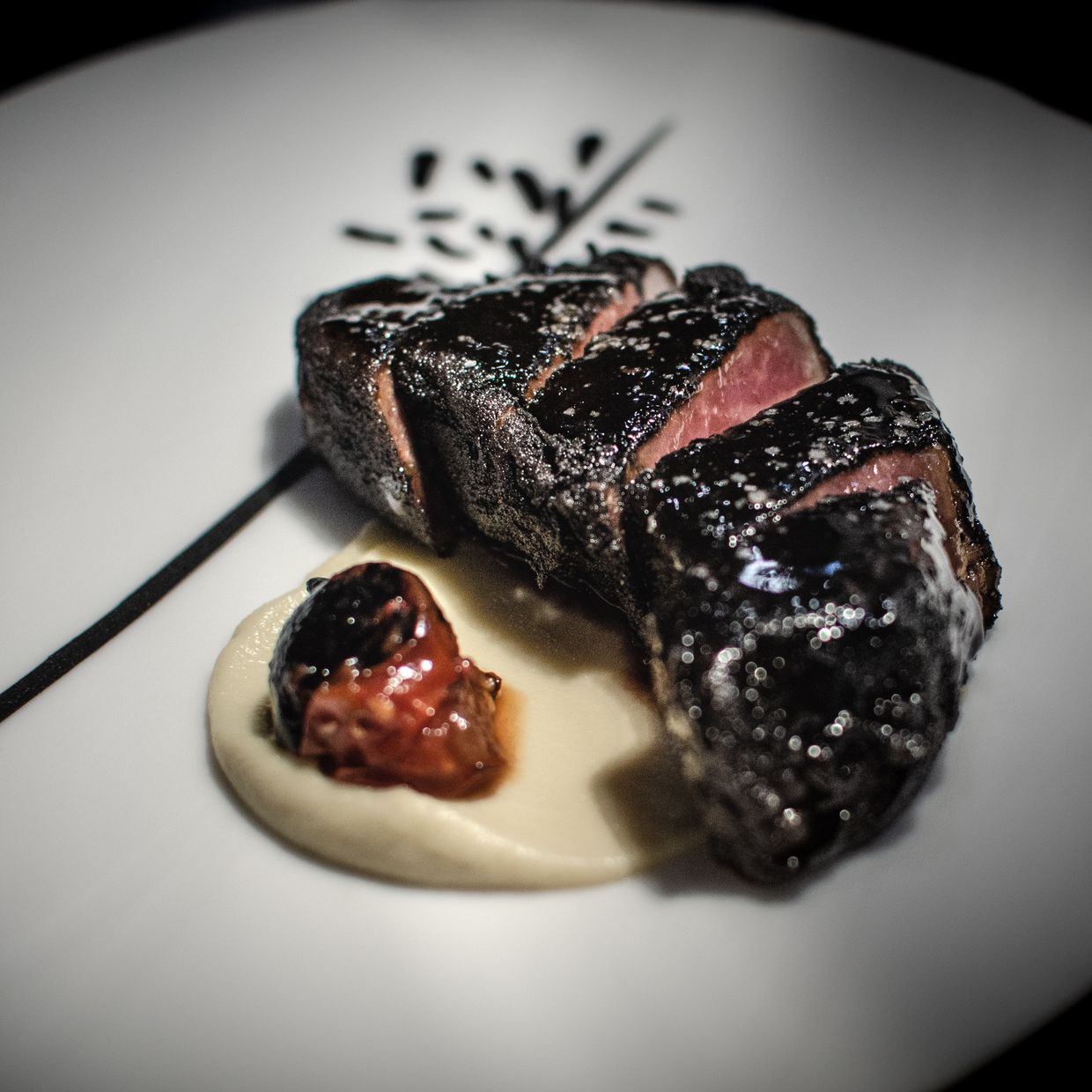 The dish La Cortina might look like a simple pasta dish, but it is a mind-blowing ode to a room that Chef Arévalo stayed in when he visited a balsamic vinegar producer in Modena, Italy. Here, homemade agnolotti pasta is stuffed with a butternut squash and amaretto, topped with parmesan cheese sauce and almond snow, and finally, blessed with a drizzle of 25-year-old Il Borgo balsamic vinegar.
Don't be alarmed when the Pata Negra is served. What appears to be a deeply charred piece of meat is actually Iberico pork presa coated with pulverized squid ink, accompanied by incredibly sweet charred Piennolo tomatoes. A duo of desserts that feature black (black sesame) and white (yogurt) ice creams signals the end of a meal that you won't soon forget.
Visit Preludio at 182 Cecil Street, Frasers Tower, #03-01/02, Tel: 6904 5686
PRELUDIO'S FRESH PERSPECTIVE
ITALIAN ARTISTRY AT ART
BACCHANALIA REBORN
LEVEL33 REACHES NEW HEIGHTS
VIOLET OON TAKES ON ORCHARD ROAD
Italian Artistry at Art
"In a way, Art is my 'what's next'," says celebrated Italian Chef Beppe De Vito. His ever-curious attitude, highlighted by pleasant surprises brought about by his new approach to Italian food, led to the rebirth of Osteria Art, to what is now simply Art.
Tucked away in a quiet corner of Market Street, the fine dining restaurant is a respite from the mad hustle of the CBD. Beautiful mirrored surfaces complement the warm color palette, while the soft lighting puts you at ease as soon as you sink into the banquette seating. Once you've eased into a relaxed frame of mind, a showcase of elegant Italian dishes follow.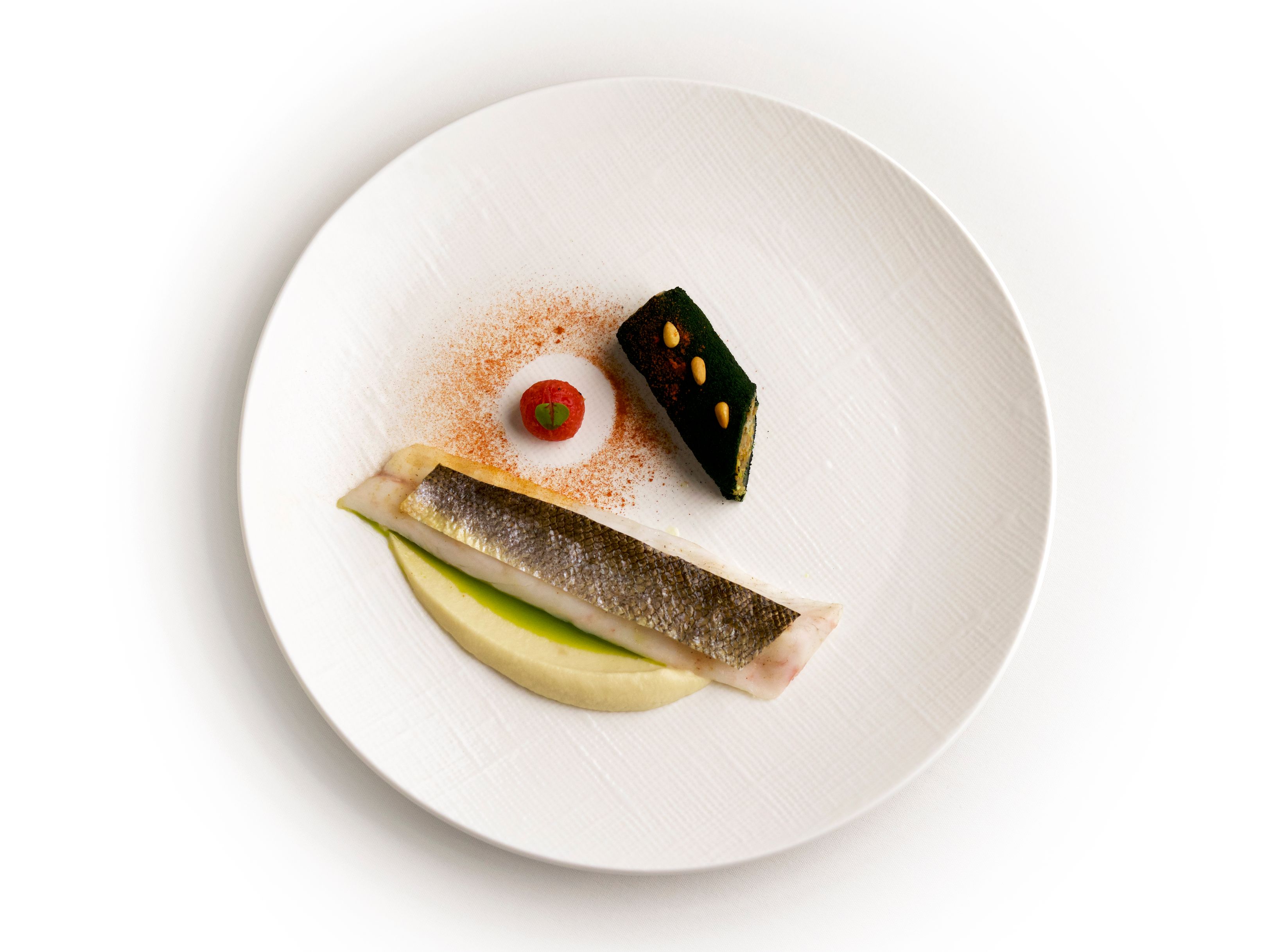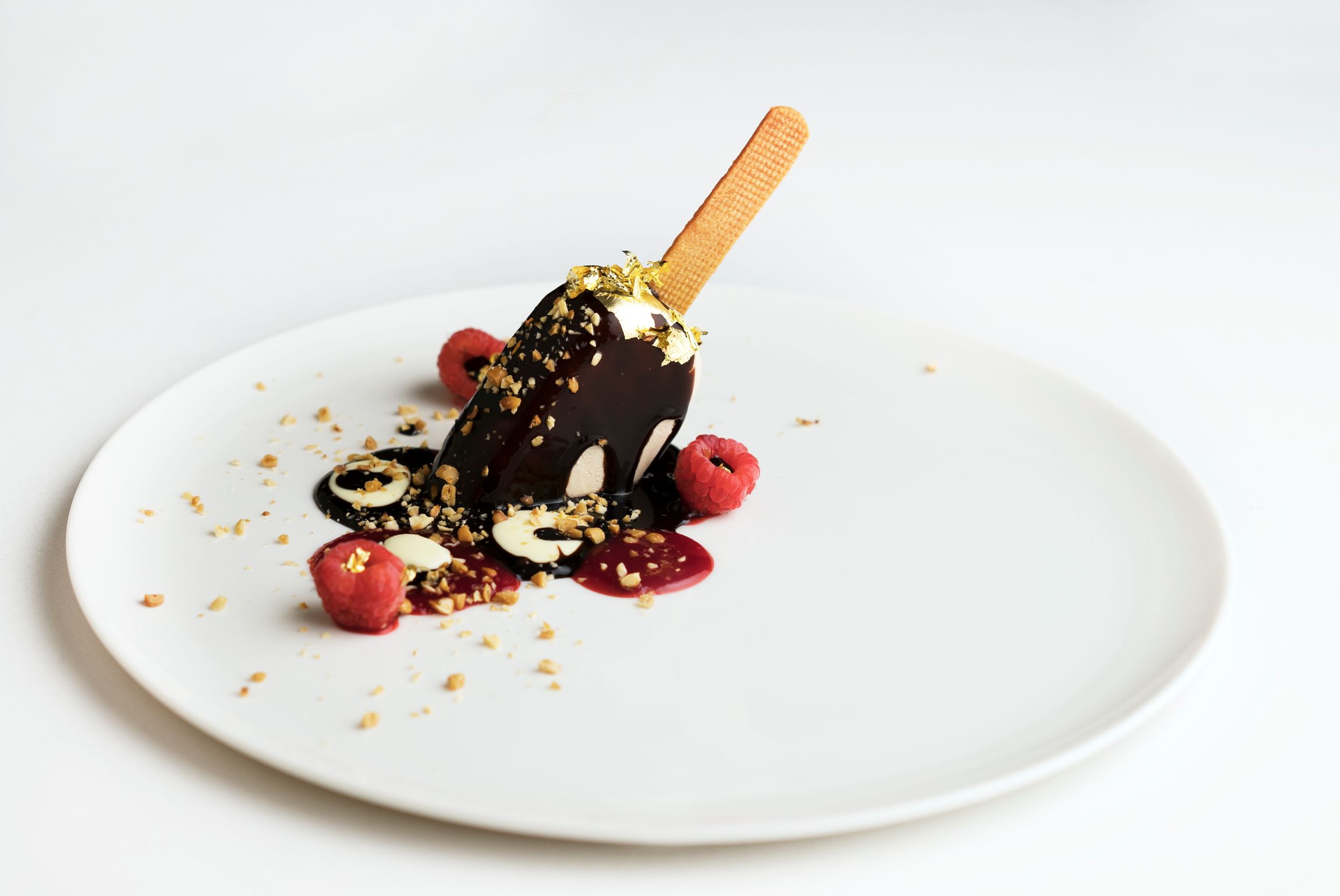 There is the Scampi Tortelli with Chanterelles and Long Pepper Pork Jus to start, where classic homemade pasta is stuffed with shrimp and paired with a zesty Bali pepper-infused pork jus and a finishing touch of saffron bisque foam. The Tagliolini with Oscietra Caviar, Clam Veloute, and Lemon Garum is another brilliant dish not to be missed, where toothsome pasta meets a light yet incredibly zesty citrus flavor profile.
True to the restaurant's name, there are dishes that are literal works of art on a plate. This is most evident in the Sea Bass with Eggplant Cannolo, Pine Nuts, and Leeks. Expect a clever play of textures here, with the succulent flesh and incredibly crisp skin. Meanwhile, the Almond Magnum is a cheeky reinterpretation of the popular ice cream bar, where a half-fallen "Magnum" is artfully tilted on a plate, comprised of almond sponge, dark chocolate ganache, and raspberry filling, all encased in a deep, dark chocolate coat.
Visit Art at 55 Market Street, #01-01, Tel: 6877 6933
PRELUDIO'S FRESH PERSPECTIVE
ITALIAN ARTISTRY AT ART
BACCHANALIA REBORN
LEVEL33 REACHES NEW HEIGHTS
VIOLET OON TAKES ON ORCHARD ROAD
Bacchanalia Reborn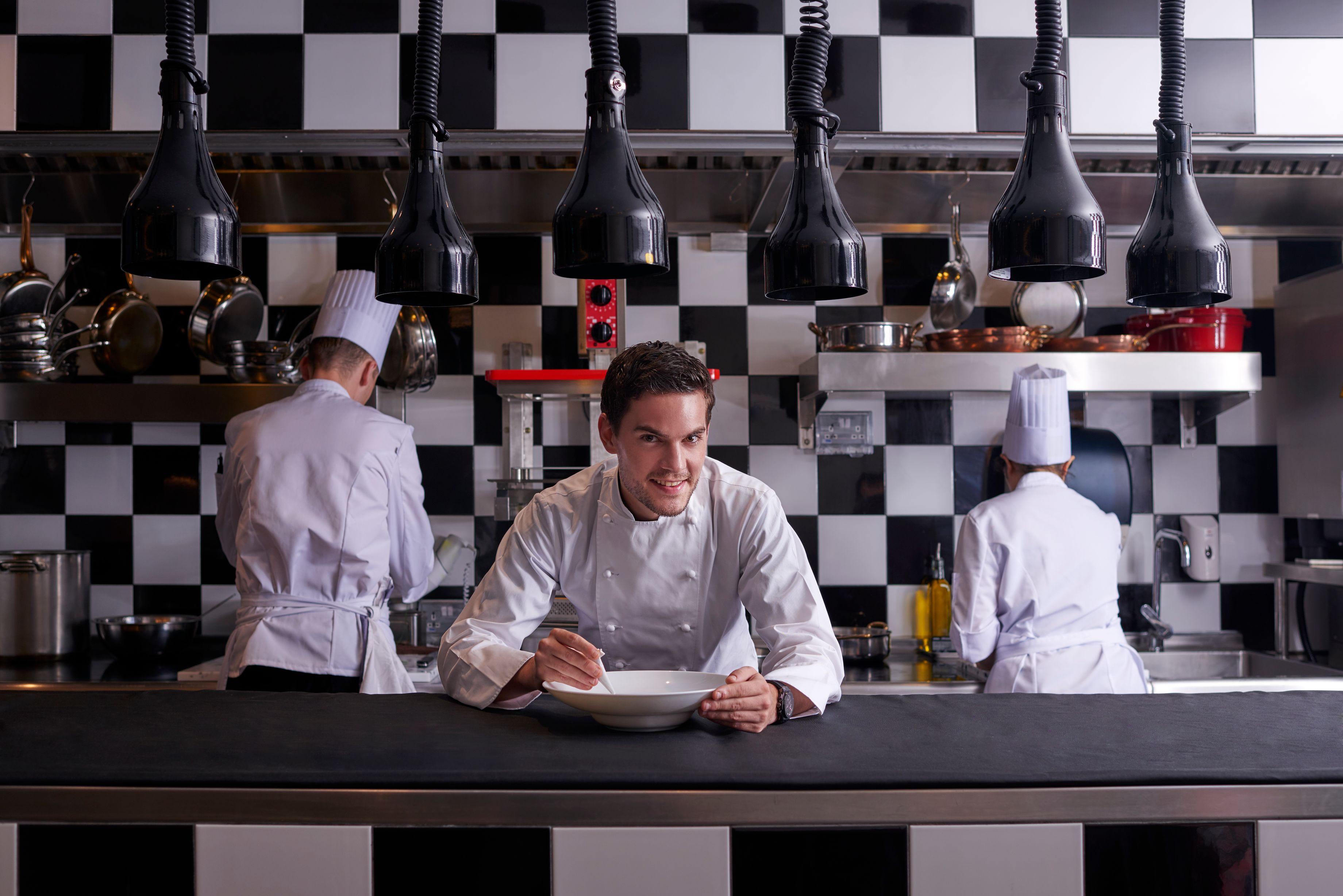 Bacchanalia's French flair is back once again at Hong Kong Street, now that it's finally open after a two-month renovation. To infuse vibrancy and youth to the One Michelin-starred restaurant, 27-year-old French Chef Vianney Massot takes over the kitchen, bringing with him a decade's worth of experience working with renowned chefs like Joël Robuchon and Eric Frechon.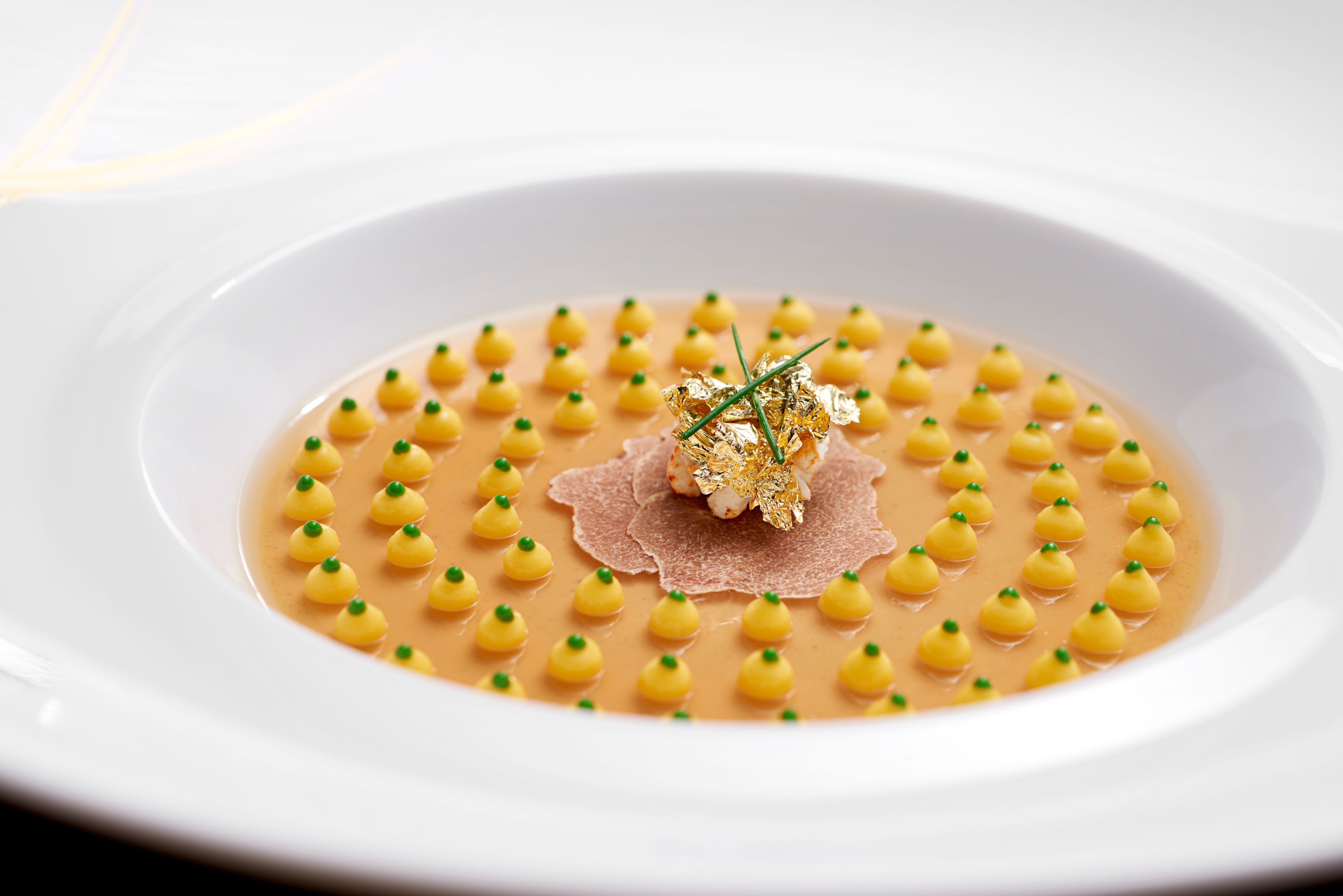 A meal here – whether a five-course lunch or seven-course dinner degustation – starts with the Foie Gras Symphony on a Delicate Jelly and Light Corn Puree. While heavily referencing a Joël Robuchon dish, the amuse bouche immediately impresses with its attention to detail and expertly balanced flavors from the mix of corn, foie gras, duck consommé, and white truffle center.
Meanwhile, enjoy the rich earthy flavors from the Ceps Tartelette and Eggplant Caviar, where French Porcini mushroom and eggplant slices are meticulously layered atop a crisp, delicate base, accompanied by a trio of sauces – chive oil, chicken jus, and balsamic vinegar. Following this is a seasonal dish of Handmade Tagliatelle coated with a creamy Shanghai hairy crab sauce and topped with white truffle shavings and crab roe. It's a filling dish for sure, but its rich flavor makes us wish the portions were bigger.
Cutting through all these bold flavors is the Orange and Citrus Marmalade dessert. It's the perfect ending to a rich meal, with bergamot sorbet accompanied by slices of tangy orange and blood orange.
Visit Bacchanalia by Vianney Massot at 39 Hong Kong Street, Tel: 6909 6360
PRELUDIO'S FRESH PERSPECTIVE
ITALIAN ARTISTRY AT ART
BACCHANALIA REBORN
LEVEL33 REACHES NEW HEIGHTS
VIOLET OON TAKES ON ORCHARD ROAD
LeVeL33 Reaches New Heights
It's been eight years since LeVeL33 opened and for the longest time, it has held on to the title of world's highest urban microbrewery. But just because it's a place where beer takes center stage doesn't mean food plays second fiddle. With Executive Chef ArChan Chan on board, its menu offerings have reached a new level of sophistication, proving that the sky-high watering hole offers more than just typical bar chow.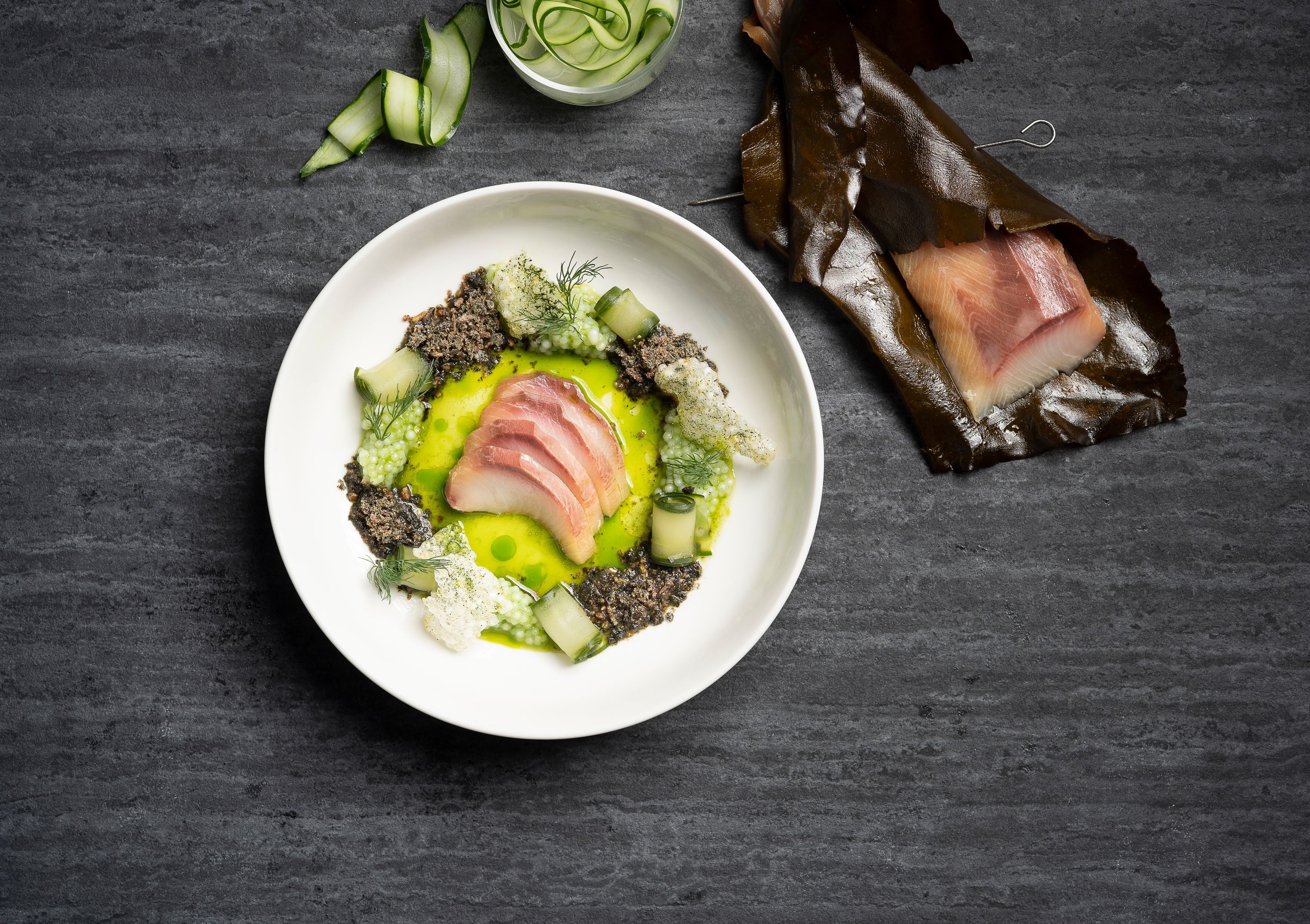 Chef Chan's take on the food here is definitely more elegant and elevated, brilliantly showcasing various elements of beer – from the beverage itself to its byproducts – in an assortment of dishes. Take for example the homemade sourdough bread with warm beer malt paired with yeast beer butter, or the fresh Kingfish Sashimi cured in lager and accompanied by textural ingredients like tapioca sago, tapioca sago chips, and nori & spent grain "sand".
In place of predictable chicken wings, opt for the Quail instead with a smoky stout glaze, grapes, sour carrots, and garlic chive flowers. The Hokkaido Scallop is worth trying too, with the genius addition of wheat beer dashi that lends a familiar yet full-bodied Japanese flavor profile.
Even more enjoyable is the Garden Greens Tart, a vegan dish that's overflowing with seasonal vegetables atop a crispy gluten-free taro tart. It's a surprisingly addictive and healthy dish that lessens the guilt when you throw back one too many pints of the homemade brews.
Visit LeVeL33 at Marina Bay Financial Centre Tower 1, #33-01, Tel: 6834 3133
PRELUDIO'S FRESH PERSPECTIVE
ITALIAN ARTISTRY AT ART
BACCHANALIA REBORN
LEVEL33 REACHES NEW HEIGHTS
VIOLET OON TAKES ON ORCHARD ROAD
Violet Oon Takes on Orchard Road
The opening of Violet Oon ION Orchard brings the brand closer to more people, allowing locals and tourists alike a taste of Singapore's varied food offerings in one convenient location.
It's hard to miss the new brasserie's signature green, gold, black, and white color combination, while beautifully packaged takeaway items like cookies, cakes, and tarts that line the shelves and walls beckon you inside. As soon as you make your way in, you'll find the setting hard to resist so you might as well ask for a table.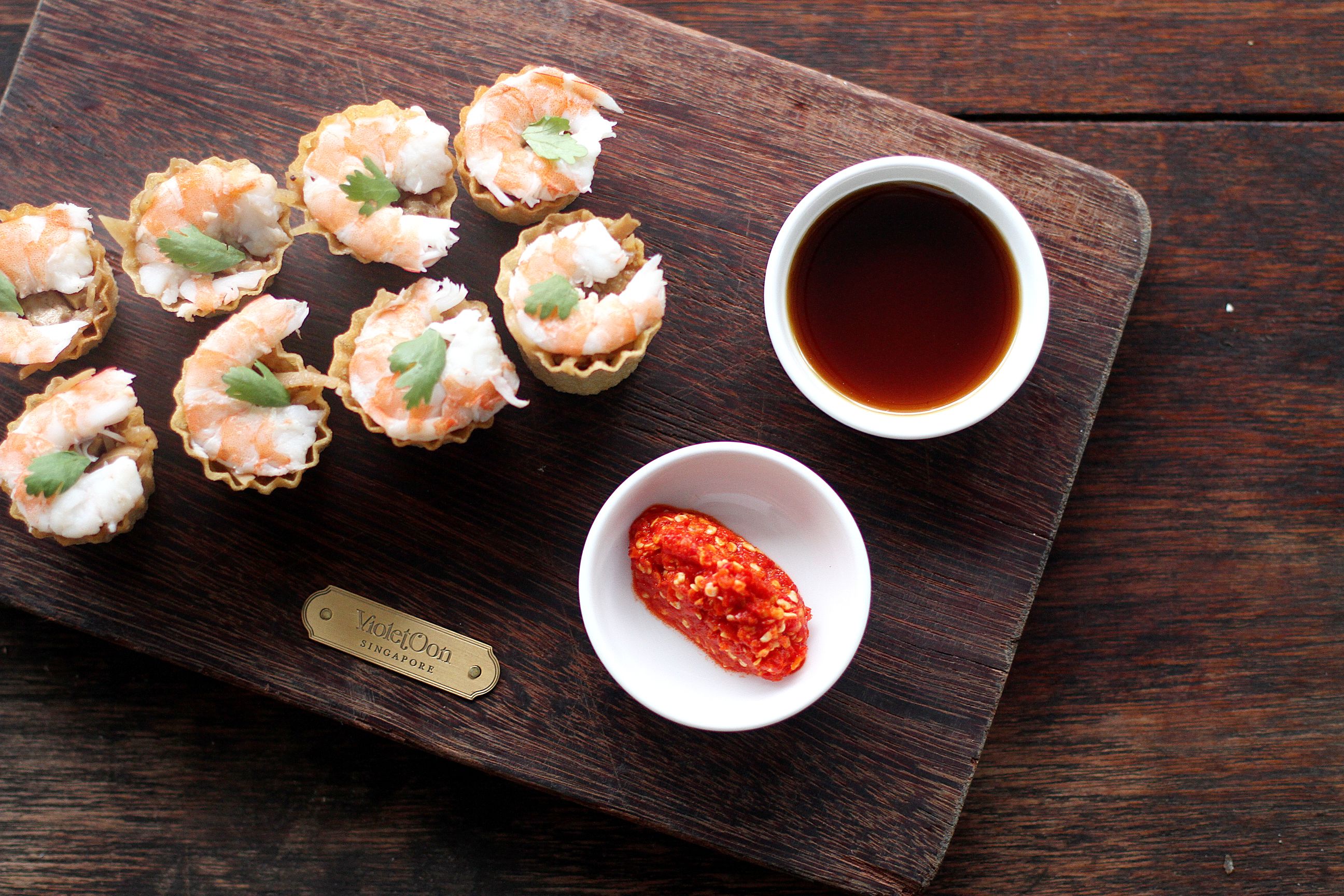 Here you'll enjoy signature dishes like Ngoh Hiang, Kuay Pie Tee, and Ayam Buah Keluak, alongside a variety of Chinese, Indian, Malay, Eurasian, and British Colonial cuisine. Dishes exclusive to this outlet that's worth trying include the Mulligatawny Soup, a curry-rich British East Indian Dish, the Hainanese Pork Chop that features a succulent chunk of kurobuta pork coated in a crispy cream biscuit crust, and the belly-warming Fish Curry with Roti Jala.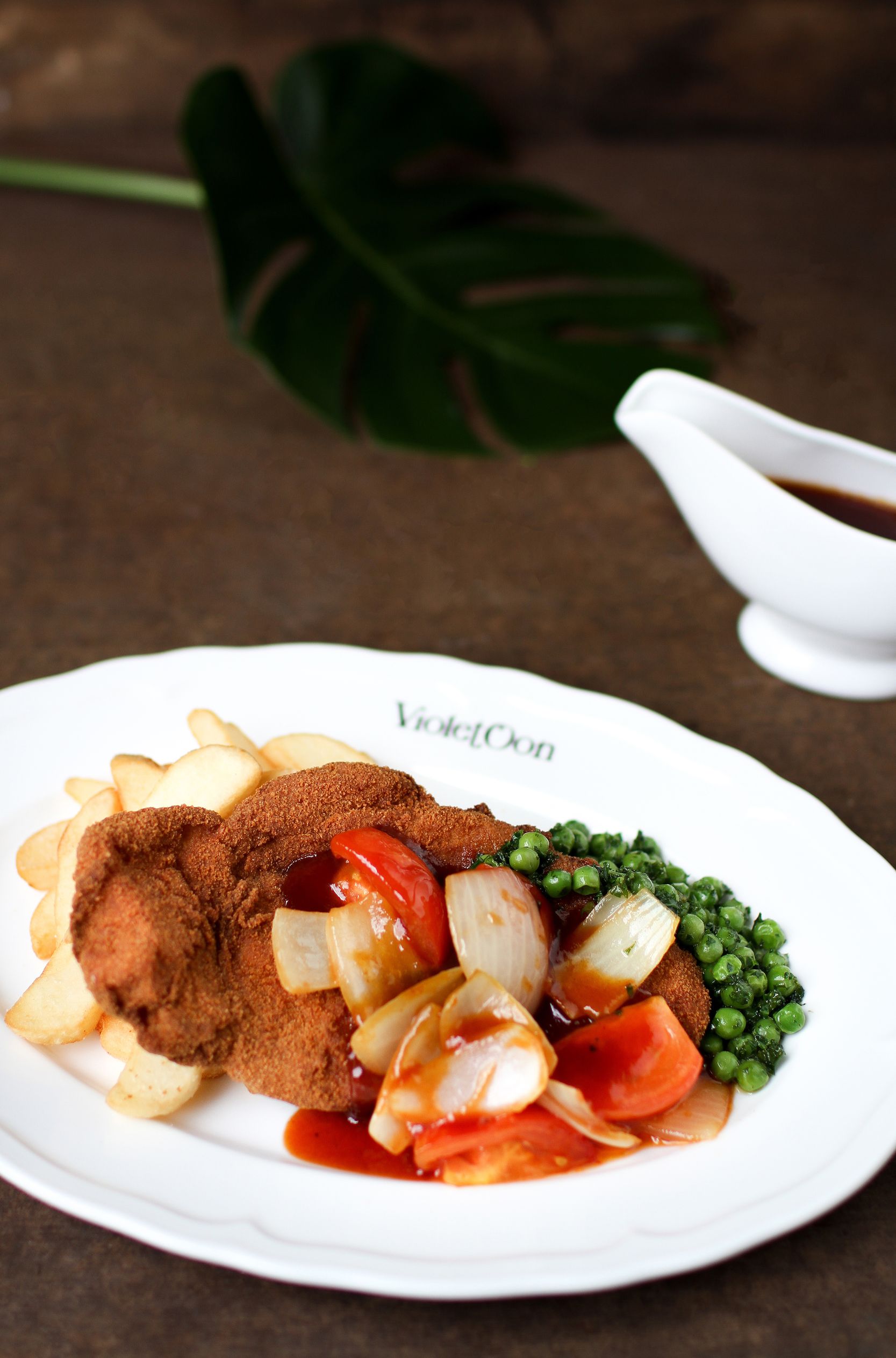 A high tea menu has also been made available recently, available from 3PM onwards, allowing you to leisurely spend the afternoon feasting on savories and sweets, such as gula melaka scones with calamansi and pineapple jam, open-faced sandwiches, and an assortment of kuehs and cakes.
Visit Violet Oon ION Orchard at ION Orchard, #03-22/28-29, Tel: 9834 9935