I'm sitting on a low stool at a high bench, peering through a magnifying glass as I try to pick up a tiny screw with a pair of tweezers and place it into one of the minuscule holes in the watch mechanism in front of me. It's frustratingly easy to drop the screw. A few millimetres in diameter, it's a lot bigger than some used in watchmaking, which can be as small as 0.4mm, but not so easy to carefully insert it in its rightful place and use a small screwdriver to fix it there.
"You're doing well," says Ivan De Matteis, the watchmaker guiding me through the process, and I laugh. It's clear that I'm not, but certainly, it's fun trying –and that's what Initium is all about.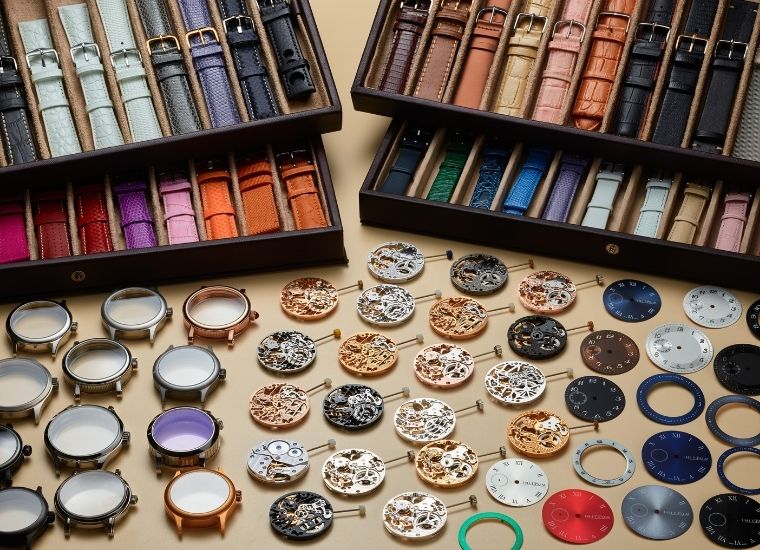 HANDS-ON HORLOGERIE
A TIMELY CRAFT
SUBURBAN INDUSTRY
CRAZY CRAFTSMANSHIP
Hands-On Horlogerie
For the past three years, this small start-up has aimed to give visitors to Geneva a hands-on experience of a craft that has made this city tick for hundreds of years. Located on Grand-Rue in the heart of Geneva's Old Town – whose pretty pedestrian streets are populated with ateliers, antique shops, and galleries – Initium's courses range from a three-hour initiation in watchmaking to a full day course in which participants assemble their very own mechanical watch to keep. With 500,000 combinations of the various components available, you'll leave with a truly unique timepiece.
"It's like Lego for adults," says De Matteis with a smile.
Before De Matteis guides me through the process of watch dismantling and reassembling, my initiation to haute horlogerie (high-art of watchmaking) starts with a brief presentation about the rich history of the craft in Geneva and the various parts in a watch movement. Holding a pair of tweezers and a screwdriver as directed, I carefully affix the multiple wheels, balance spring, and lever to the base plate until the movement works as it should. It's incredibly satisfying for me and for De Matteis, who used to be a watchmaker for leading Geneva brands including Patek Philippe, Rolex, and Vacheron Constantin before joining Initium because he wanted to teach. The most satisfying aspect of the job, he tells me, "is when I finish the course and see that the person has understood, has more information than he had at the start, and is smiling" – which certainly applies to me.
HANDS-ON HORLOGERIE
A TIMELY CRAFT
SUBURBAN INDUSTRY
CRAZY CRAFTSMANSHIP
A TIMELY CRAFT
Watchmaking was developed in Geneva, thanks to the Huguenots.
These protestants fled persecution in Catholic France in the 16th century, and their arrival in Calvinist Geneva tripled the city's population. Known as highly skilled craftsmen, they joined a city already known for its goldsmiths. However, under the conservative influence of Reformation leader John Calvin, jewellery was outlawed, so these talented refugees began creating timepieces instead, which Calvin accepted (perhaps he thought they would at least turn up on time to church). As a result, Geneva became known for La Fabrique, as the independent watchmaking workshops came to be collectively called. Craftsmen and women lived and worked in attic rooms in the Saint-Gervais area of the city, including philosopher JeanJacques Rousseau who was born into a watchmaking family and briefly an engraver's apprentice here. Eventually, with the city bursting at the seams, watchmaking spread into the nearby Jura region, where many watch maisons remain today.
Geneva's rich watchmaking heritage is evident all over the city – from the beautiful floral clock in the Jardin Anglais, whose blooms represent the many 'complications' (mechanical complexities) in a horological movement, to the watch boutiques lining the upmarket Rue du Rhône. I discover on a guided tour that each maison has its claim to fame: the oldest Swiss watch brand still in existence (Blancpain, founded in the Jura in 1735); the inventor of the tourbillon, a revolutionary mechanism regulating a watch's precision (Breguet), the creator of the world's smallest mechanical movement (Jaeger-LeCoultre, with the Calibre 101); and the first maison to create a waterproof watch (Rolex, whose Oyster model launched in 1926).
Clearly, competition between the city's many watchmakers is what has partly fuelled creativity and innovation over the centuries, as well as requests from clients, according to Christian Selmoni, Style and Heritage Director of Vacheron Constantin, Geneva's oldest watch brand which was founded in 1755. When a customer asks for something in particular from a watch, it's up to the designers and craftspeople to figure out how – and if – it can be done, all the while maintaining the brand's sense of style and tradition. The result is a "tension between classicism and contemporaneity" that drives the company on, says Selmoni when I meet him in the maison's boutique in Place de Longemalle.
Vacheron Constantin's various innovations over the years attest to a fascinating social history. For example, a 1920s model on display in the shop was created for the increasing number of automobile owners during that period. Its numbers are placed diagonally to enable the wearer to read the time while holding the wheel.
Visitors to the boutique can also gain insight into the craftsmanship behind watchmaking thanks to its table des metiers d'art. It explains techniques such as guillochage figuratif, a detailed engraving work which is used to decorate watch dials, and a specialism of Vacheron Constantin. Like many watchmakers in Geneva, the company's work is certified by the Poinçon de Genève (Geneva Seal), a quality mark created in 1886 to protect the city's watchmakers from inferior copycats.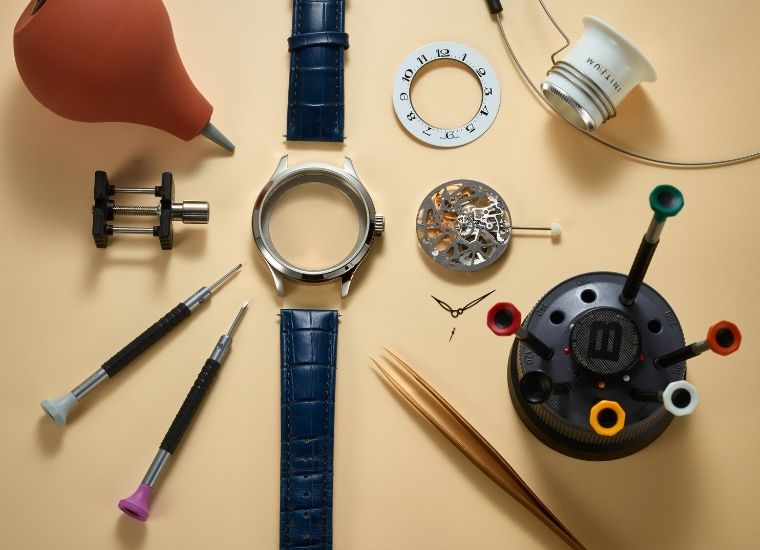 HANDS-ON HORLOGERIE
A TIMELY CRAFT
SUBURBAN INDUSTRY
CRAZY CRAFTSMANSHIP
Suburban Industry
If the city centre is the display cabinet of Geneva's watchmaking industry, then Plan-les Ouates in the suburbs is its nuts and bolts. It's here where many of the leading brands have their factories; where huge machines make miniscule screws; where components are created, polished, and cleaned according to the exacting standards of the Poinçon de Genève; where watchmakers peer through magnifying glasses as they assemble movements, creating minute repeaters that chime on the minute, perpetual calendars (a complex date function taking into account leap years) and tourbillons (Breguet's innovation of 1801)
One such company is Frederique Constant, a relatively recent addition to Geneva's watchmaking scene. It was founded in 1988 by Dutch entrepreneurs Peter Stas and Aletta Bax who wanted to make luxury watches more affordable. To maintain their chosen price point, many of the decorative elements of its watches are outsourced, while the design, assembly, and quality control are done in-house. Both processes can be witnessed in a series of videos in the company's on-site museum. Here, I learn the story of its signature watch, the Heartbeat, which was launched in 1994. It was the first timepiece to have an aperture window on the dial showing the rotation of the balance wheel where the watch's 'heartbeat' is located beneath. It was an innovation the still-young company failed to patent, resulting in it being much imitated ever since. The maison's more recent developments include Bluetooth connected watches allowing the wearer to monitor their sleep, heart rate, and steps within a stylishly classic design.
Another fascinating visit outside the city centre is to Watchland in the lakeside village of Genthod, the headquarters of Franck Muller, which took over a restored 1905 mansion here in 1991 and later constructed several more buildings in the same style to house its manufacturing. Located on the slopes above Lac Léman, the beautiful campus offers its watchmakers what is undoubtedly the best view in the business. Does that inspire their craft? Perhaps it helps, but my tour of the facilities – open to the public on appointment – reveals the hard graft that accompanies inspiration.
I see how components are created and engraved on hand-operated machines before being meticulously checked by hand Watchland; how they are cleaned and coated with solutions including liquid gold and rhodium; and how machine work including laser cutting combines with fine manual skills. The company is known for its innovative complications: its most complex watch, the Aeternitas, has 1,483 components. Another one is called the Crazy Hours, which features an hour hand that jumps between numerals displayed in the wrong order, while one of its latest models features a QR code allowing the wearer to pay for purchases using their bitcoin account.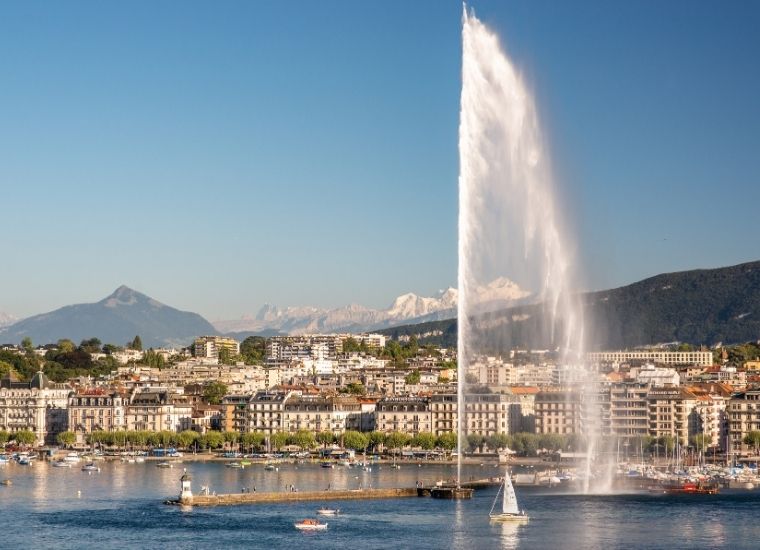 HANDS-ON HORLOGERIE
A TIMELY CRAFT
SUBURBAN INDUSTRY
CRAZY CRAFTSMANSHIP
Crazy Craftsmanship
Bitcoin and Bluetooth-connected watches are some of the innovations that may seem a far cry from La Fabrique of days gone by, but they aren't really. Watchmakers in Geneva and elsewhere have always prized innovation, as evidenced by the wonderful Patek Philippe Museum in central Geneva. The museum gives visitors an eye opening tour through five centuries of watchmaking. Containing some 2,000 timepieces and items of jewellery, not only by Patek Philippe but by other Swiss and European maisons as well, it also shows how trends, customer desires, qand technical innovations – some more successful than others – have always powered watchmaking.
On display are throat watches of the 1600s, elaborately decorated ladies' duelling pistols which squirt perfume when fired. I also spot men's wristwatches featuring singing bird automata that are made from real hummingbird feathers and a Swannee whistle. Further down, aviation watches with hands coated in glow-in-the dark phosphorus are gloriously displayed.
As I stand open-mouthed in front of these incredible creations, it occurs to me that the bitcoin watch is the singing bird of yesteryear, no doubt to be admired in a museum in hundreds of years, a representative of its era. What ties them together, and centuries of haute horlogerie in between, are the founding principles upon which La Fabrique is built – fine craftsmanship, creativity, and invention.