IN FOCUS
Age of Caution
by Ara Luna-Reston
01 Sep 2020
Some countries are already lifting border restrictions and gradually opening businesses amid the COVID-19 outbreak, but many are eagerly wondering: is it wise to travel now? Most airlines and hospitality establishments choose to be tight-lipped about the issue, and instead, focus on upping their sanitation protocols to a hilt.

A life-threatening pandemic is upon us, and it is showing no signs of slowing the economic upheaval. Depending on the country's COVID-19 response, several nations have been successful in curbing the spread of the virus, while others are struggling to keep the number of cases down. Regardless of how dire or good each country is responding to the ravages of this disease, hotels are beginning to open their doors again, and airlines are gradually plowing the skies. 
Both sectors are raring to reclaim their share of the global revenue pie. While some may argue that extending nationwide lockdowns is crucial until a vaccine is discovered, the travel landscape seems to refuse to be bogged down by uncertainty. And with reinvigorated security and health measures in place, hotels and airlines are keeping their head above water as they resiliently adjust in this new reality.
FIRST POINT OF CONTACT
A TIMELY RESPONSE
LESSONS FROM THE FIELD
UP IN THE AIR
PASSENGERS' PEACE
First Point of Contact
Maxim Tint was aboard an international flight six years ago when the idea for GTRIIP dawned on him. The CEO and founder of the digital identity platform was mid-jot on his passenger arrival card when he realized in frustration that he'd be filling out another form with the same particulars upon hotel arrival.
"What really bothered me was the fact that my details are already online, yet I was still doing manual data entry repeatedly," the Myanmar native shares. "I come from a data-building warehouse systems background, so I knew there was a better way to do this menial task."
Fed up with frequently scribbling on paper forms and registration cards at hotels, Maxim and his GTRIIP co-founder made it their mission to help people travel without physical documents in tow. The goal: Create a contactless check-in software that features a seamless user experience.
"As we worked closely with hotel brands, we discovered specific customer pain points such as long waiting times at the check-in desk due to elaborate identity verification processes," he says. To address this predicament, he explains that GTRIIP allows smartphone-owning guests to book a room, check-in remotely, and verify their identity with a selfie upon arrival. A digital key will also be generated via the mobile device, which patrons can use to access the lift lobby and their respective room immediately.
After check-in, GTRIIP also provides access to a plethora of in-room features. "Too cold? Adjust the air-conditioner's temperature levels on your smartphone. Feeling hungry? Open the digital menu to order. Need more pillows? Tap on the e-concierge button. Have a burning question you need to be answered? Contact a staff member using GTRIIP's chatbot function," Maxim expounds. "The entire process ensures maximum efficiency and convenience because it is all done with minimal contact."
FIRST POINT OF CONTACT
A TIMELY RESPONSE
LESSONS FROM THE FIELD
UP IN THE AIR
PASSENGERS' PEACE
A Timely Response
Post COVID-19, it's now commonplace for hotel players ramping up their hygiene standards and operational procedures to primarily minimise human-to-human interactions and high-touch points. While online booking systems and automated technologies were already starting to fall in place pre-outbreak, GTRIIP was already at the forefront of making contactless check-ins the "new normal" in the hospitality industry.
"With some countries beginning to lift travel restrictions, hospitality providers are looking into reopening safely and winning back consumers. Thus, hotels are turning to contactless check-in technology to reduce direct contact between guests and staff," Maxim observes. "There has been a notable demand for GTRIIP's contactless check-in solution because of this trend."
The trend Maxim is referring to is the safety and travel requirements stipulated by local authorities like the National Environment Agency. Case in point: Hotels in Singapore need to be 'SG Clean' certified, a comprehensive audit system to validate hotel cleanliness. These guidelines include appointing a manager to oversee procedures; temperature screening; employee and stakeholder health declarations; stringent cleanliness and hygiene practices; and compliance with advisories and protocols.
Additionally, hotels have to assure guests that their stay remains as contactless as possible in every aspect; from the time guests step into the property to the time they leave the hotel. GTRIIP is helping hotels with this initiative of providing contactless technology for check-in, managing in-room controls, and check-out.
FIRST POINT OF CONTACT
A TIMELY RESPONSE
LESSONS FROM THE FIELD
UP IN THE AIR
PASSENGERS' PEACE
Lessons from the Field
There's no skirting around it: The hospitality industry is one of the hardest-hit sectors in the pandemic, with hotels reporting single-digit occupancy rates earlier this year. Based on reports suggesting that the economy is expected to get worse by the end of 2020, Maxim has learned survival strategies to stay afloat in the business world.
"COVID-19 has taught me to plan more strategically. It's never too late for survival and recovery contingency plans," the entrepreneur reflects. "Moreover, it's about coming up with fresh ideas, experimenting quickly, and scaling up. It is also about surprising customers with possibilities that they never thought were possible."
While Maxim doesn't have a "pandemic playbook" drafted for future use, he learned that businesses have to be agile and adaptive to change. "We have to understand that new customer buying habits and expectations are being created right now because of the coronavirus pandemic," he elaborates. "At GTRIIP, we believe quickly adjusting to the environment faster is the new normal for businesses."
GTRIIP is presently used by notable brands in the industry, such as the Park Hotel Group, Amara Hotel group, and major casino organizations. In spite of the growing demand for their digital identity software solution, the company remains steady and committed to their vision: Automate, digitalize, and streamline physical access to provide an overall seamless and secure customer experience. "The hygiene factor is just the icing on the cake," Maxim finishes.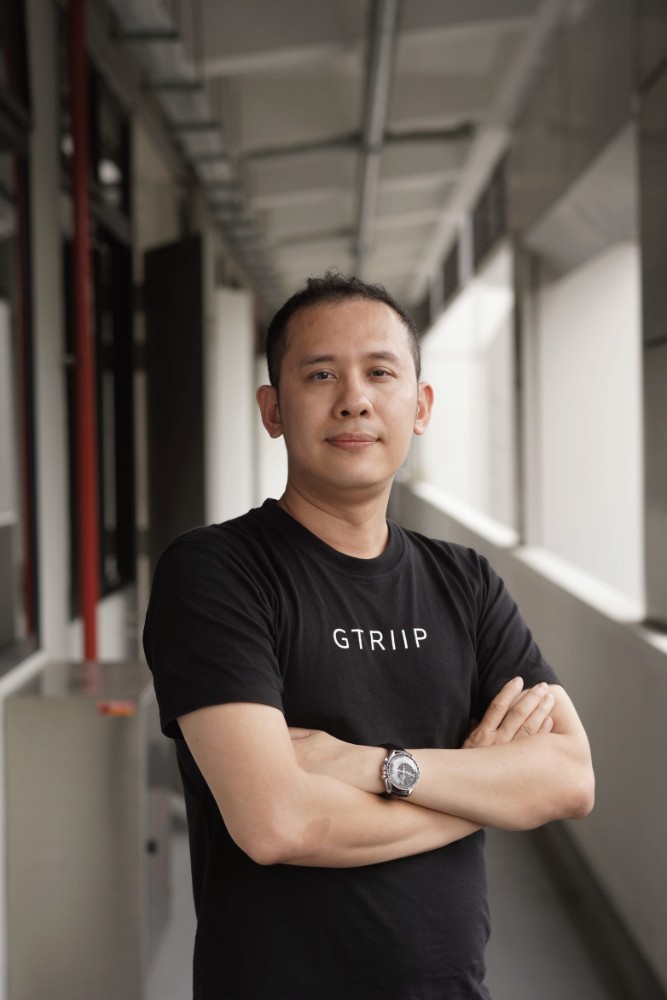 "The entire process ensures maximum efficiency and convenience because it is all done with minimal contact." – Maxim Tint, GTRIIP CEO
FIRST POINT OF CONTACT
A TIMELY RESPONSE
LESSONS FROM THE FIELD
UP IN THE AIR
PASSENGERS' PEACE
Up in the Air
In new research revealed by the International Air Transport Association (IATA), airlines in Europe are expected to bleed $21.5 billion in 2020. Turbulence is ahead as passenger demand continues to dip by over half the pre-pandemic rate due to enhanced strict border controls and other air traffic disruption across the globe. While select flights remain in operation to cater to essential travel, travelers are now more conscious of unnecessary interaction and in favor of automated solutions.
To quell passengers' air travel worries, airlines have been implementing hygiene measures that offer multiple layers of protection for customers and crewmembers. Hong Kong's Cathay Pacific Airways, for example, has introduced Cathay Care – a set of enhanced measures to assure patrons' wellbeing when flying with the flag carrier. It is worth noting that safety is a two-way street, as all customers are required to fill out a health declaration form upon check-in and wear a mask throughout the flight.
"Physical distancing and temperature screening at contactless check-in counters have been implemented at all airports," the Cathay Pacific Airways spokesperson says. "That said, we encourage our passengers to check-in online and use the self-service facilities as much as possible."
He also adds that meal services have been appropriately reduced to avoid further human-to-human contact.
Before boarding a Cathay Pacific aircraft, another round of temperature screening will be conducted. Face coverings will be required throughout the journey and, wherever passenger numbers allow, middle seats will be blocked to observe physical distancing. The airlines assure that the added comfort and extra space won't have any impact on ticket prices.
FIRST POINT OF CONTACT
A TIMELY RESPONSE
LESSONS FROM THE FIELD
UP IN THE AIR
PASSENGERS' PEACE
Passengers' Peace
Frequent cleaning and sanitation are critical to a virus-free environment, and Cathay Pacific Airways ensures that they fulfill every protective measure possible. "We have improved our sanitation methods on all aircraft surfaces from in-flight screens to air-conditioner controls between every flight," the spokesperson said in the interview. "There is a temporary suspension of pre-meal bar access and pre-poured drinks, but rest assured that beverages will still be served throughout the flight."
The airline's enhanced cleaning procedures now include strict disinfection of surfaces and fixtures such as tray tables, baby bassinet tables, and armrests across the aircraft after every flight. Additionally, staff members are trained with the latest hygiene protocols and cleaning procedures, as well as use products recommended by IATA and the World Health Organization.
"Cathay Pacific and Cathay Dragon aircraft are equipped with a high-efficiency particulate air (HEPA) filter that effectively traps bacteria and viruses inside the cabin," the spokesperson explains. "The filter circulates air every two minutes, removes 99.9% per cent of airborne contaminants, and cleans cabin air to a level that of hospital operating rooms."
Out of extreme caution, the airline carries out additional disinfecting – on top of regular cleaning and sanitizing – upon a confirmed case of coronavirus within the Cathay Pacific territory. They claim to use a commercial-grade disinfectant called Netbiokem DSA, and that the entire process takes up to five hours to complete by trained cleaning professionals, according to the representative.
"Cathay Pacific Airways ranks eighth in Skytrax's 2019 top ten world's cleanest airline cabins, and has been included in the globally renowned list for five consecutive years," the spokesperson proudly states. "We truly have been keeping the highest standards of cabin cleanliness."