In case you haven't heard, Romago Swiss has been in the business for well over a decade. Among the founders is Jean-Claude Racine, who's been an independent watchmaker since the 1960s.
The Swiss brand started by offering custom-made timepieces for collectors, until it expanded its collection in 2004, offering Swiss-made watches created through in-house designs, with unique materials and new manufacturing technologies. 
The octagon watch case has become the signature look for a Romago Swiss watch. In formulating its shape, Racine took cues from ancient Chinese geography that merges rigidity and mellowness, resulting in the watch's round face in a square body.
ROULETTE MASTER II
LUMINFUSION CARBON RM111
Roulette Master II
This year, the Roulette Master II collection debuts a new colour in robin egg blue. And true to the theme, the new Skeleton Automatic's roulette-styled dial includes a roulette ball because, why not?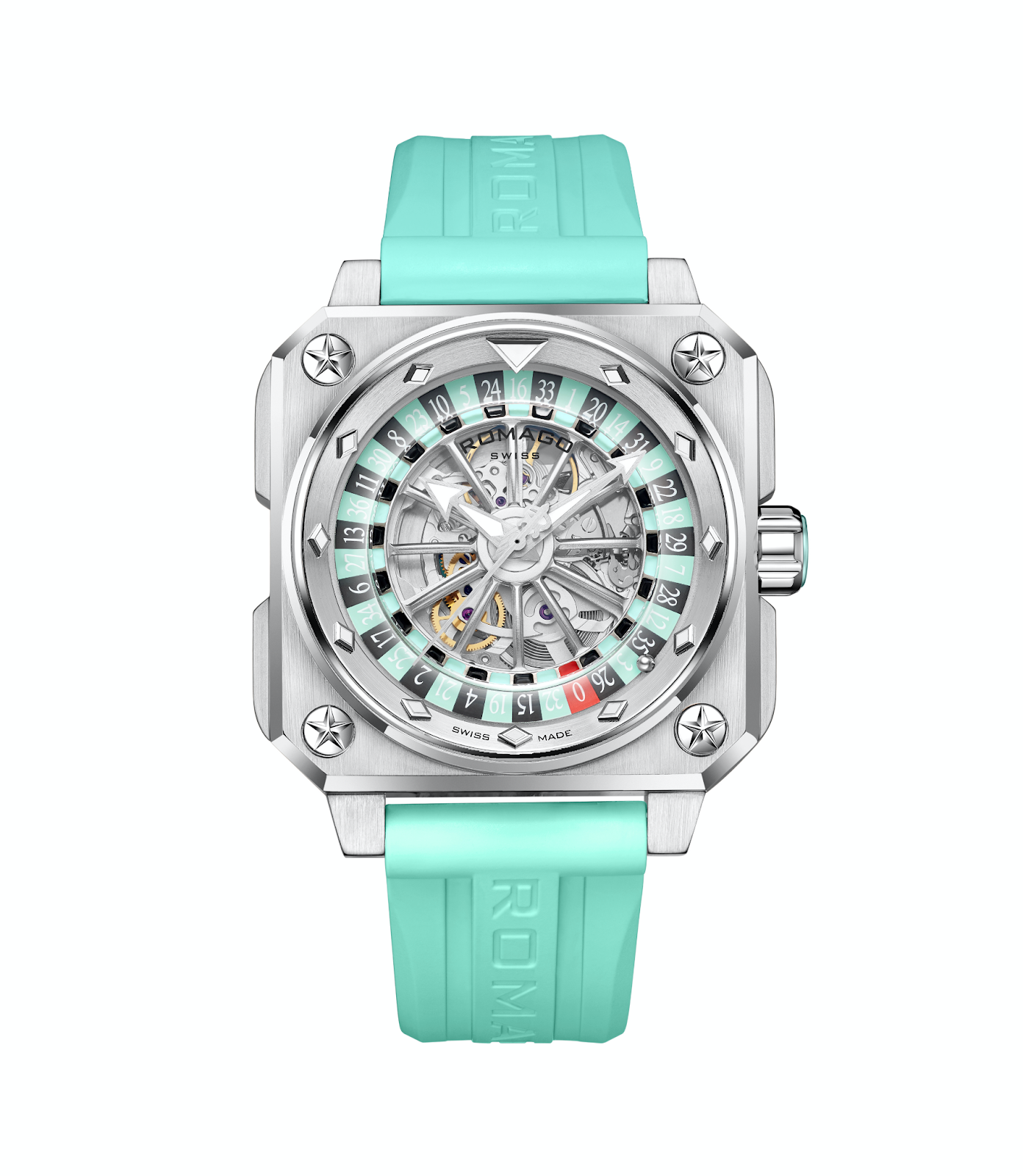 At 46.5 mm, the octagonal case is in silver PVD stainless steel with an exhibition caseback that shows off the automatic movement, which is also seen through the skeletonised dial. The watch comes with the option of either a matching robin blue rubber strap or one in rainbow leather.
The Roulette Master II Skeleton Automatic is limited to 200 pieces worldwide and priced at SGD4,800.
ROULETTE MASTER II
LUMINFUSION CARBON RM111
LuminFusion Carbon RM111
Besides an unconventional case design, Romago Swiss incorporates the use of advanced materials and components in its production methods. The latest LuminFusion Carbon series attests to this, featuring its luminous carbon case in three new variations.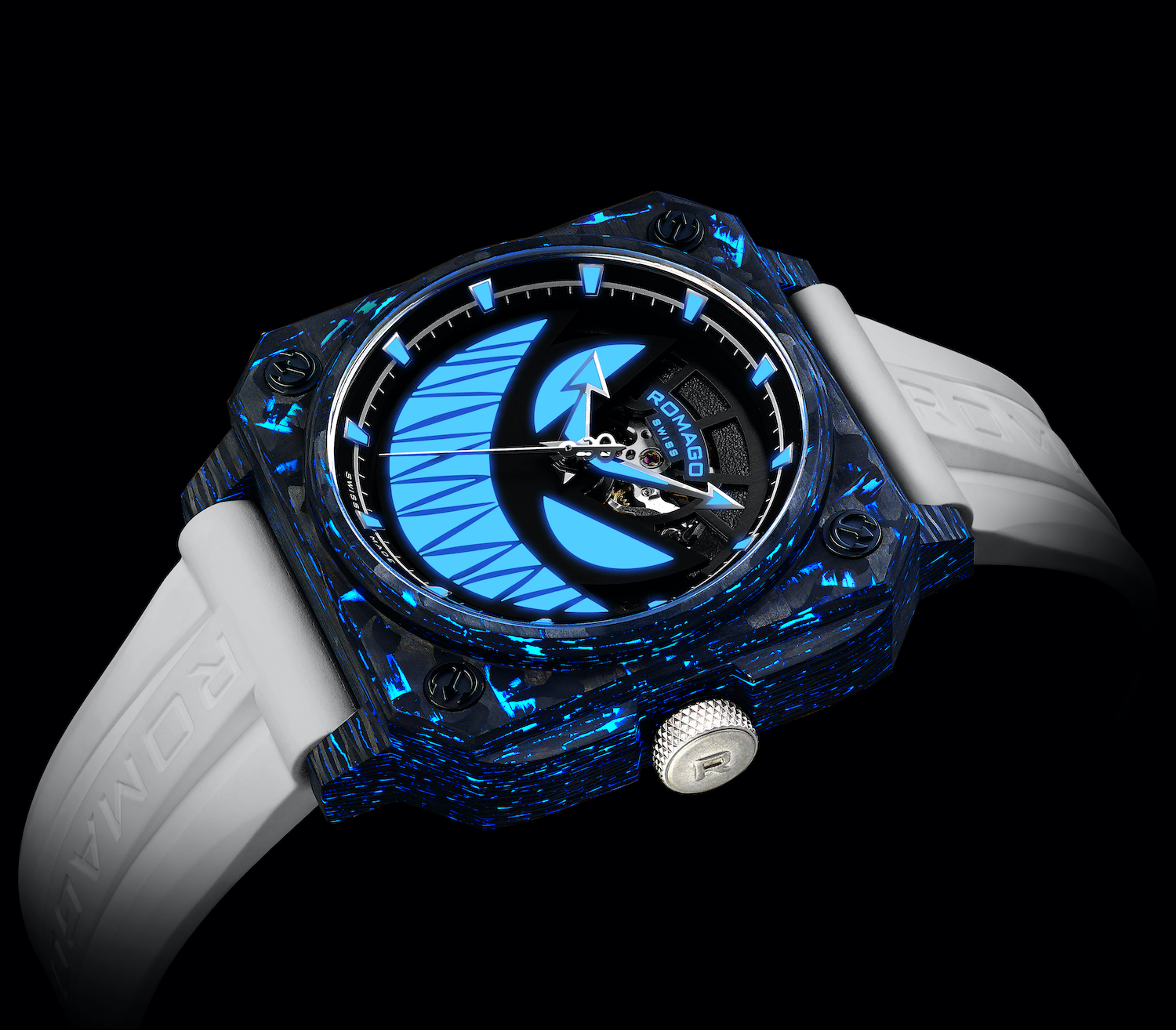 LuminFusion Carbon White
The stealthy design is dominated by an eye-catching automatic oscillating weight that adds to the luminous effect across the watch, matching the luminous hands, hour markers, and the logo script at 12 o'clock. Additional details such as the trident-pattern bezel screws further distinguish the collection (as opposed to the Roulette Master with star-patterned bezel screws), with each one finished in a rubber strap.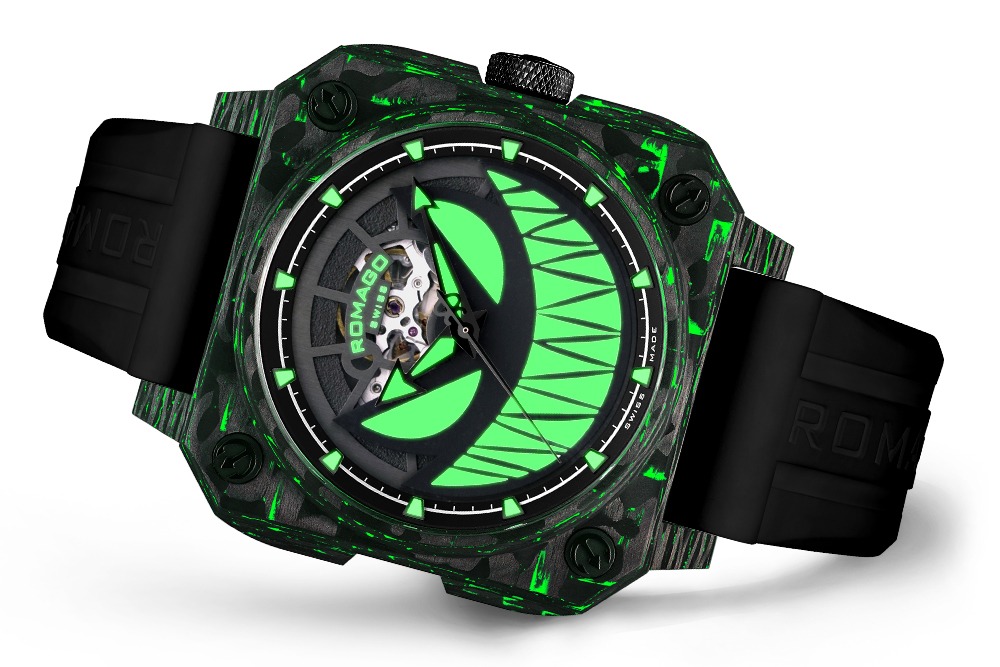 LuminFusion Carbon Sand with green luminescence
The LuminFusion in Carbon White features a monotonous aesthetic that's livened with an electric blue luminescence, while another version in the sand colourway comes with a black rubber strap and features a green luminescence. Both watches are priced at SGD7,400.
Of the most unique of the lot, a limited version in gold — a world first 18K gold luminous carbon watch — is illuminated in a gold colour, a tribute to the Greek god of the sun, Apollo. Romago achieves this by blending 18K gold and luminous materials in a carbon fibre case, and covers the hour indices, rotor and brand logo with luminous coating. (The main hour hands are coated with green luminescence.)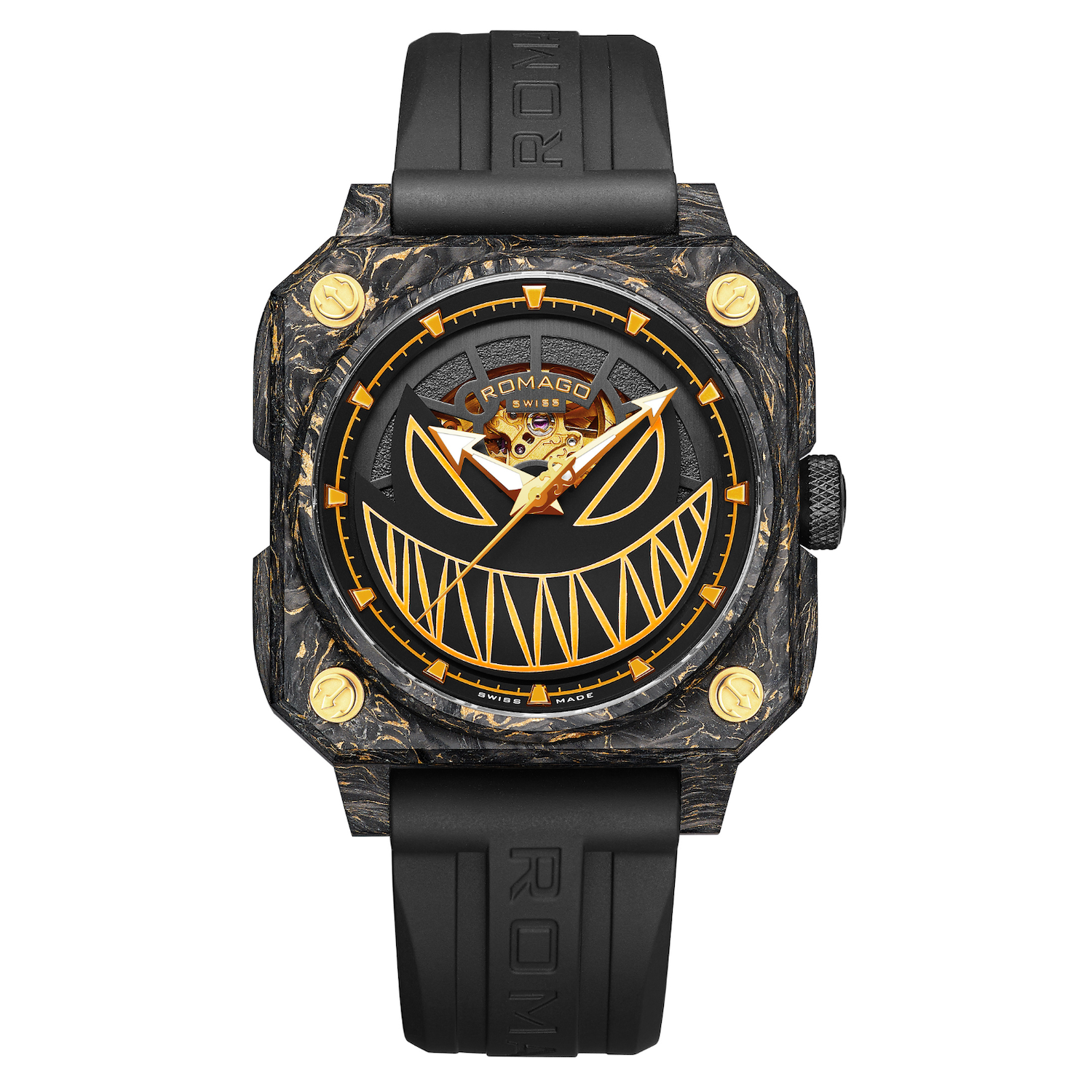 LuminFusion Carbon Gold
The case back is sealed with luminous carbon fibre, and the limited number (out of 100) is engraved at the back. Each timepiece runs on an automatic movement and priced at SGD8,800.

Explore the LuminFusion and Roulette Master collections at Leong Poh Kee Pte Ltd, a proud distributor of Romago Swiss watches in Singapore.
Leong Poh Kee Pte Ltd
289 Beach Road, #01-02, Singapore 199552
www.lpk.com.sg